Masjidkur Mosque is situated at Masjidkur, a small village on the eastern bank of the Kobadak under Koyra upazila of Khulna district. It is now a protected monument of the Directorate of Archaeology, Bangladesh.
The mosque is a brick-built multi-domed square structure, measuring 12.19 m a side inside and 16.76 m outside. The four exterior angles have been traditionally emphasised with solid circular corner towers which rise upto the roof level. Excepting the qibla wall, the three other sides all have three arched openings, of which the central one is larger than the flanking ones. The qibla wall is internally recessed with three semi-circular mihrab niches in alignment with the three eastern archways. The central mihrab is slightly bigger and projected towards the back. The cornices of the building are gently curved.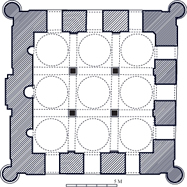 The interior of the mosque is divided into nine equal square divisions by four stone pillars; each division is covered over by an inverted cup-shaped dome. These domes are carried on intersecting arches springing from the stone pillars. The upper corners in between the intersecting arches are filled with Bengali pendentives formed from oversailing courses of bricks set corner-wise and edge-wise.
The mosque was originally decorated with terracotta, traces of which can still be noticed in the mihrab niches and in the spandrels of the archways. Of the varieties of decorative motif rosettes, jali work, lozenges, and floral scrolls are prominent.
In plan the mosque resembles the square nine-domed mausoleum of sikandar shah beside the adina mosque at Hazrat Pandua, the first known example of its kind in Bengal.
The present building is typically a multi-domed type Bengali mosque having only the prayer chamber. The architectural details of the mosque compare very well with those of Khan Jahan's buildings at Bagerhat. It is thus very likely that the Masjidkur Mosque was built under the supervision of Bura Khan and Fath Khan, who were supposed to have ruled this low lying south-western part of khalifatabad as nominees of khan jahan. The kachari and tombs of these two officers are located at a place to the south of the mosque, although most of the structures have been washed away by the river Kobadak. [MA Bari]