Maulvibazar District (sylhet division) area 2601.84 sq km, located in between 24°08' and 24°29' north latitudes and in between 91°36' and 92°17' east longitudes. It is bounded by sylhet district on the north, tripura state of India on the south, assam and Tripura states of India on the east, habiganj district on the west.
Population Total 1780797; male 904918, female 875879; Muslim 1281773, Hindu 482'952, Buddhist 14189, Christian 29 and others 30. Indigenous communities such as manipuri, khasia, tripura and Halam belong to this district.
Water bodies Main rivers: manu, Dhalai, Juri, Longla; Hakaluki, Hail and Kawadighi Haors are notable.
Administration Maulvibazar Sub-division was formed in 1960 and it was turned into a district in 1984. Maulvibazar Municipality was established in 1930.
District
Area (sq km)
Upazila
Municipality
Union
Mouza
Village
Population
Density (per sq km)
Literacy rate (%)
Urban
Rural

2601.84

7

5

67

917

2134

150301

1630496

625

42.66
Others Information of District

Name of Upazila

Area
(sq km)

Municipality

Union

Mouza

Village

Population

Density
(per sq km)

Literacy rate (%)

Kamalganj

119912

1

9

111

251

229648

473

40.67

Kulaura

167847

1

13

121

470

395878

709

51.08

Juri

58920

-

8

92

144

168423

706

39.79

Maulvibazar Sadar

85085

1

12

192

434

281593

818

48.6

Barlekha

123958

1

10

150

325

233720

480

42.69

Rajnagar

83560

-

8

142

259

193303

572

36.2

Sreemangal

11179

1

9

109

207

278232

617

39.57
Source  Bangladesh Population Census 2001, Bangladesh Bureau of Statistics.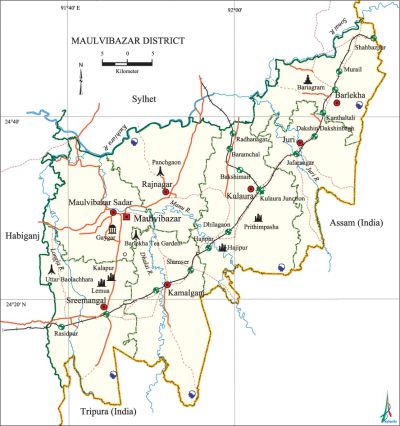 History of the War of Liberation Maulvibazar district was under Sector 4 during the war of liberation. Armed resistance against the Pak army begun at village Sreerai Nagar of Maulvibazar sadar on 27 March 1971. The Pak army made a surprise attack on a procession killing two persons by gun shot. Encounters between the freedom fighters and the Pak army were held at different places of the Maulvibazar sadar upazila including at Manumukh, Kamalpur and Sherpur. On 27 March resistance movement against the Pak army also initiated in Barlekha upazila; this upazila was a free zone up to 6 May. During the War of Liberation the agitated people of the upazila killed a number of Pak soldiers. The members of the EPR and the freedom fighters conducted a combined attack on the Pak army on 29 March at Kamalganj in which many Pak soldiers were killed. Having entered into Sreemangal on 30 April the Pak army conducted mass killing and plundering in the upazila; they also violated a number of women and set many houses of the upazila on fire. On 7 May the Pak army drowned 59 persons to death at village Panchgaon in Rajnagar upazila. The Pak army also killed 15 innocent persons at Dharbari and Shahjibari of Munshi Bazar. On 14 May the Pak army conducted mass killing at Uttar Bhag, Chatura, Mahalal, Pancheswar and Rajnagar; they also set many houses of these areas on fire. About 11 freedom fighters were killed in a direct encounter with the Pak army. On 2 and 3 December battles were fought between the Pak army and the joint forces (freedom fighters and the allied forces) at Fultala, Sagarnal and Kapnapahar areas of Kulaura upazila. On 4 December a group of 30 freedom fighters took control over the Pak military camp at Udna Tea Garden of Rajnagar upazila. Martyr Birsrestha mohammad hamidur rahman was killed at village Ambasa on the border area of Kamalganj upazila. During the War of Liberation the Pak army established camps in Kulaura Hospital and in Nabin Chandra High School. During this time the Pak army killed about one hundred freedom fighters and innocent people. The freedom fighters launched indiscriminate attacks on the Pak army who were controlling different tea gardens of the Juri town area. They also destroyed culvert and bridges of the areas to disrupt the communication of the Pak army. Juri upazila was liberated on 4 December and Barlekha and Rajnagar upazilas were liberated on 6 December.
Marks of the War of Liberation Mass grave: 9, mass killing site: 6, memorial monument: 7.
Literacy rate and educational institutions Average literacy 42.66%; male 45.6%, female 38.5%. Educational institutions: college 24, co-operative institute 1, youth training centre 1, nursing institute 1, vocational training institute 1, Tea Research Institute 1, horticulture research institute 1, primary teachers training institute 1, education project for the blinds 1, secondary school 158, primary school 1103, madrasa 108. Noted educational institutions: Maulvibazar Government College (1956), Maulvibazar Government Mahila College (1985), Abdul Gafur Chowdhury Mahila College (2000), Sreemangal Government College, Rajnagar Degree College (1973), Moulana Mufajjol Hossain Mahila College (1994), Taiyebun Nessa Khanam Academy Degree College (1994), Jagatsi Gopallkrishna M Saifur Rahman School and College (1915), Maulvibazar Government High School (1891), Rajnagar Portias High School (1893), Kali Prasad High School (1895), Dashrath Multilateral High School (1896), Kashinath Alauddin High School (1917), BTRI High School and College, The Birds Residential Model High School and College, Victoria High School (1924), Shamshernagar ATM High School (1929), Ali Amzad Government Girls' High School (1932), MA Wahab High School (1933), Kamalganj High School (1934), Tatoigaon Rashid Uddin High School (1954), Dayamoy Singha High School (1973), Haji Ustawar Girls' High School (1983), Abul Fazal Chowdhury High School (1985), Juri High School (1994), Suja Memorial High School (1994), Ekasantosh Government Primary School (1880), Dobarhat Government Primary School (1882), Chandranath Government Primary School (1924), Basudebpur Government Primary School (1930), Chandranath Primary School (1934), Shamshernagar Government Primary School (1946), Ranirbazar Government Primary School (1953), Raj Dighirpar Primary School (1972), Tatoigaon Government Primary School (1978), Uttarsur Kul Chandra Government Primary School, Ghargaon Hedayetul Islam Taitel Madrasa (1926), Nayabazar Ahmadia Fazil Madrasa (1958), Rajnagar DS Fazil Madrasa (1973), Darul Ulum Madrasa.
Main sources of income Agriculture 40.37%, non-agricultural labourer 13.13%, industry 1.63%, commerce 11.29%, transport and communication 2.20%, service 6.62%, construction 1.44%, religious service 0.40%, rent and remittance 4.71% and others 18.21%.
Newspapers and periodicals Daily: Maulvibazar Barta, Banglar Din, Khola Chithi; weekly: Patakunrir Desh, Manu Barta, Janaprattasha, Muktakatha, Manab Thikana, Hefazat-e-Islam, Maulvibazar Darpan, Al Insan, Sreemangaler Chithi, Sree Bani, Pubali Barta, Sree Vhumi, Joy Barta, Kulaurar Dak, Rajkantha; fortnightly: The Sylhet Today, Banhi Shikha; monthly: Durdiganta, Sree Gaurbanee; defunct: monthly Tablig-ul-Islam and Tanjimul Muslemin (1924), Sreehatta Vraman-Paridarshan (1930), weekly Avijan (1935), monthly Christian Jagat (1935), quarterly Brati (1936), weekly Nakib (1937), yearly Abahani (1939), weekly Agradut (1960), monthly Bonna (1970), weekly Biplavi Bangla (1972), weekly Muktabarta (1972), Weekly Fariad (1987).
Tourist spots Madhabkunda Water Fall (Barlekha); Madhabpur Lake, Parikunda and hakaluki haor (Kamalganj); Muraichhara Eco Park, Rubber Plantation and Tila (Kulaura); Barshijora Eco-Park, Monu Barrage and Tea Garden (Maulvibazar Sadar Upazila); Bangladesh Tea Research Institute, Lawachhara National Park, Bharaura Lake, Magurchhara Khasiapunji and Gas Field and Denston Cemetry (Sreemangal).
Folk culture Folk traditions of the district include Rasnritya, Khamba-Thoibi, Lai-haraoba, Thabal-Changba, Mridanganritya, Dol Festival, Biju Festival, Karam Puja, Lathinritta (stick dance), Jhumur nritya, Charak nritya of the Shabdakar community, proverbs, Poi, riddle, Dak, Geet, marriage song, Dhamail song, Baul song, Sari Gan, Lachari, Bandha song, Baromashi song, Maljora song, Bichched song, etc. [Shah Abdul Wadud]
See also The upazilas under this district.
References Bangladesh Population Census 2001, Bangladesh Bureau of Statistics; Cultural survey report of Maulvibazar District 2007; Cultural survey report of upazilas of Maulvibazar District 2007.