Miah, MA Wazed (1942-2009) nuclear scientist. He was born in 1942 at village Fatehpur in Pirganj upazila of Rangpur district. His father was Abdul Quader Miah and mother Maijun Nesa Bibi. He was better known as Sudha Miah.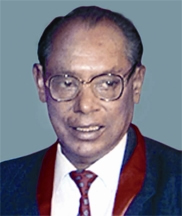 Wazed Miah had his early education at his village primary school. He passed matriculation examination in 1956 from Rangpur Zila School and I Sc examination in 1958 from Rajshahi Government College. Wazed Miah obtained BSc (Hons) degree in Physics in 1961 from Dhaka University with second position in first class, and MSc degree in 1962 in Physics having secured first position in first class. MA Wazed Miah completed 'Diploma of Imperial College Course' in 1963-64 session from Imperial College in London and got his PhD from Durham University of England in 1967. He received higher training on science of neuclear power in West Germany in 1975.
He married sheikh hasina, the eldest daughter of bangabandhu sheikh mujibur rahman, in 1968.
MA Wazed Miah joined the Student League in 1961. He was elected as vice president of student union of Fazlul Huq Muslim Hall of Dhaka University in 1961-62. While leading the anti-Ayub students movement he was arrested in 1962. Though actively involved in student politics in his university life he did never keep himself' associated with politics. He was the general secretary of the Atomic Energy Scientist Association in 1972-73 and was the president of the organisation in 1983-85. He was the general secretary of Bangladesh Physics Samiti in 1985-88 and was elected its president in 1997. Between 1994 and 1996 he was the president of Bijnan Unnayan Samiti.
Dr. Wazed Miah joined the Pakistan Nuclear Energy Commission on 1 April 1963. In 1969 he was associated with the Italy based International Research Project. Between 1975 and 1982 he had been engaged in research work in the Delhi Laboratory of Atomic Energy Commission of India. After his return from India in 1982 Wazed Miah joined his post in the Atomic Energy Commission. He retired from service in 1999 as Chairman of the Commission. Wazed Miah contributed a good number of research articles on science to foreign and inland newspapers and journals. His noted publications include Fundamentals of Electromagnetics (1982), Fundamentals of Thermodynamics (1988), Bangabandhu Sheikh Mujibke Ghirey Kichhu Ghatana' O Bangladesh, Bangladesher Rajneeti o Sarkarer Chalchitra. Vikrampur Sir Jagadish Chandra Basu Society awarded him Sir Jagadish Chandra Basu Gold Medal 1997 for his contribution to the field of science. He died in Dhaka on 9 May 2009. [Sanzida Murshed]