Mitra, Peary Chand (1814-1883) writer, journalist, cultural activist and entrepreneur. Peary Chand's father, Ramnarayan Mitra, who moved from Panisehala of Hughli district to Calcutta in early life, was one of those eighteenth-century businessmen who made their fortunes as banians to European merchants and officials. Peary Chand studied at home, learning Bangla and persian with a pundit and a munshi. He entered hindu college in 1827 and studied under henry derozio.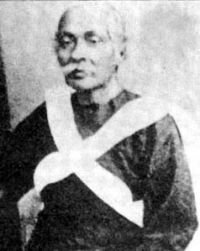 Peary Chand Mitra started his career as a deputy librarian at Calcutta Public Library (1836), later becoming its librarian, and, still later, the secretary of the organisation. He was involved with a number of enterprises. He was partner and director of several companies such as Great Eastern Hotel Company Ltd., Port Canning Grand Investment Co, and Howrah Docking Co. As a social and cultural activist, Peary Chand Mitra organised and managed many organisations that contributed to the Bengal renaissance.  
The organisations he was actively associated with were Association of General Knowledge (1830), Bengal British India Society (1843), David Hare Memorial Society (1844), Race Club (1847), bethune society (1851), and Agricultural and Horticultural Society (1847).
Peary Chand held a number of important honorific offices, such as Justice of Peace (1863), Fellow of Calcutta University (1864), Visitor to Jail and Juvenile Correction Centre (1864), Grand Juror of Calcutta High Court (1868-1870), member of the Bengal Legislative Council (1868-1870), and honorary magistrate of Calcutta Municipal Board.
To posterity, however, Peary Chand Mitra is particularly known for his contribution to the development of journalism and Bangla literature. He was a regular contributor to the Englishman, Indian Field, hindu patriot, Friend of India and bengal spectator. His major literary works include alaler gharer dulal, (1857), Mad Khaoya Bada Day Jat Thakar ki Upay (1859), Ramaravjika (1860), Krsipath (1861), and Bamatoshini (1881). Among his English works are A Biographical Sketch of David Hare (1877), The Spiritual Stray Leaves (1879), Stray Thought of Spiritualism (1879), and Life of Dewan Ramkamal Sen (1880).
The greatest literary contribution of Peary Chand was Alaler Gharer Dulal, considered to be the first Bangla novel. The book set a new trend in bangla literature regarding prose style and diction with Peary Chand breaking away from the traditional sadhu (formal) prose style to use instead chalita (current or colloquial) Bangla, the living language of the people. [Sirajul Islam]