Mitra, Pramathanath (1853-1910) a revolutionary leader of the early twentieth century Bengal, was born on 30 October 1853 in Naihati village in the district of Twenty-four Parganas, West Bengal. He was better known as P Mitra. Mitra went to England to study for the bar, returning home in 1875.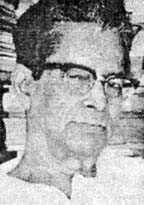 In his youth, Mitra had been greatly inspired by the Anushilan Tattva of Bankim Chandra Chatterjee. While studying in England, he came to know about Irish and Russian revolutionaries and resolved to organize a revolutionary group on his return. After he came back to India, he maintained regular contacts with underground organisations engaged in revolutionary activities. On 24 March 1902, he was elected director of the 'Bharat Anushilan Samiti' set up by Satish Chandra Bose and also took up its financial responsibilities. Mitra renamed it 'anushilan samiti'. He was also elected director of the branch set up in dhaka afterwards, initiating its leader, into the revolutionary world.      
The programmes of the Samiti included developing physical strength, learning the history of freedom movements of various countries, and development of revolutionary character. Mitra stressed physical exercise, because he believed that without physical mobility no revolution could be successful. He used to teach history to the young members of the Samiti. In 1906, he presided over the 'Nikhil Banga Baiplabic Samiti' and the 'Nikhil Banga Biplabi Sammelon' held at the house of Subodh Mallik in Kolkata.
Apart from practising as a barrister at the High Court, Mitra used to teach at Ripon College. Mitra's writings include a novel, Yogi, Tarkatattva, Jati O Dharma, and History of the Intellectual Progress of India. [Sambaru Chandra Mohanta]