Mohammadullah, Mohammad (1921-1999) lawyer, politician and PRESIDENT of Bangladesh. Mohammadullah was born on 21 October 1921 at village Saicha in Raipur upazila of Luxmipur district. His father Munshi Abdul Wahab was a social worker. He passed entrance examination in 1938 from Luxmipur High School, BA (Hons) in History from the University of Dhaka in 1943. He obtained LLB degree in 1948 from the Ripon College of Kolkata, and again got LLB degree from the Dhaka University the same year. He joined Dhaka District Bar in 1950 and Dhaka High Court Bar in 1964.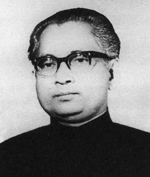 Mohammadullah joined politics as an activist of Awami Muslim League in 1950 and was elected office secretary of the East Bengal Awami Muslim League in 1952 which office he held till 1972. He took active part in the movement on six-point programme (1966) of Bangubandhu sheikh mujibur rahman, and had to suffer imprisonment for several times. He was elected a member of the East Pakistan Provincial Assembly in 1970. During the war of liberation in 1971, Mohammadullah was the political adviser to the Acting President of the mujibnagar government.  
Mohammadullah was elected deputy speaker at the first session of the Jatiya Sangsad in 1972. He was made the acting Speaker after the death of Shah Abdul Hamid and was later elected as Speaker (12 November). He was elected a member of the Jatiya Sangsad in 1973 and was elected its Speaker. Mohammadullah was elected President of the People's Republic of Bangladesh on 23 December 1973, a position which he held till 25 January 1975. He was made the minister in the cabinet of Bangabandhu Sheikh Mujibur Rahman in January 1975 in charge of the Ministry of Land Administration and Land Reforms. After the assassination of Bangabandhu Sheikh Mujibur Rahman he was made the Vice President of the Republic.
Mohammadullah left Awami League politics in 1980 and joined Bangladesh Nationalist Party (BNP). He was appointed as Vice President of the Republic on 23 March 1982 by the President Abdus Sattar only to continue for 24 hours when Lieutenant General Hussein Mohammad Ershad took over state power. Muhammadullah was elected a member of the Jatiya Sangsad in 1991 as a nominee of BNP. In 1996, Mohammadullah left BNP and again joined the Awami League. He died in Dhaka on 11 November 1999. [Mofakkhar Hossain Khan]