Momen, Nurul (1906-1989) educationist, playwright, was born at Alfadanga in Faridpur district on 25 November 1906. His father Nurul Arefin was a physician. He did his Matriculation in 1924 from Muslim High School in Dhaka, IA in 1926 from Dhaka Intermediate College and BA in 1929 from Dhaka University. After obtaining his BL degree from Calcutta University he began to practice law at Calcutta High Court in 1936.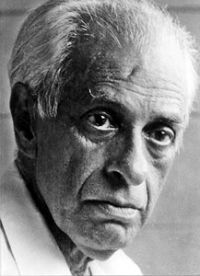 Nurul Momen's first play Rupantar was broadcast from Dhaka station of All India Radio in 1942. He directed it himself. It was published in book form in 1947. His play Nemesis was published in Calcutta's Shanibarer Chithi in 1945 and in book form in 1948. This play was written in the background of the famine of the fifties. It's style of writing and the plot of story were unique. It's story was depicted through a single character's long dialogue. It was highly appreciated, as a result he secured a distinct place in Bengali playwriting.Nurul Momen joined the faculty of law of Dhaka University in 1945. His belles-letters Bahurupa was published in 1948. In the same year he left for England for higher education and obtained his law degree from London University in 1951.  
While in London he conducted in BBC's Bengali service a children's programme called 'Kakoli'. During this time he also served for a year as Education Attache at the Pakistan embassy in London. While teaching at Dhaka University he shouldered several other responsibilities such as Provost of Fazlul Huq Hall (1957), Dean of the Faculty of Law (1963) and as Proctor and Treasurer. He retired from the university in 1972.
One of his major achievements was to satirize powerfully through many characters of his plays the inconsistencies and conflicts in the contemporary society. His other well-known plays were Jadi Emon Hato (1960), Naya Khandan (1962), Alochhaya (1962), Ayaner Antarale (1966), Shatkara Ashi (1967), Ruplekha (1969) and Jemon Iccha Temon (1970).
For his noteworthy contribution to Bengali literature he was awarded the Bangla Academy Award (1961), given receptions by the Chicago University's International Actors' Association (1964), he was honoured at a reception in Calcutta in 1954 by the British theatre personalities (1966), and the theatre groups of Bangladesh (1977), and awarded Ekushey Padak (1978). He died in Dhaka on 16 February 1989. [Faisal Mahmud]