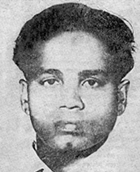 Mortaza, Mohammad (1931-1971) physician and writer, martyr intellectual. He was born on 1 April 1931 in the district of 24 Parganas in West Bengal. His father was Maulana Abdul Mannan al-Azhari and mother Saira Begum. After the partition of India his father along with his family came to Arangghata in Daulatpur thana of Khulna district and settled there. Mohammad Mortaza passed matriculation in 1946 from Baliganj Government High School in Kolkata and ISc in 1948 from Presidency College. He studied medicine for sometime in Kolkata Medical College, and obtained MBBS degree in 1954 from Dhaka Medical College.
Mohammad Mortaza started his career as a Medical Officer of Dhaka University in 1955. He was connected with leftist politics. He helped the publication of the paper Gana-Shakti edited by Badruddin Umar. Mortaza used to contribute as a columnist of the paper under the caption Deshe Deshe Mukti Juddha. Mortaza wrote a number of books which include Jana Sankhya O Sampad, Chikitsha Paribhasha Kosh, Pak-B harat Juddher Tatparya, Naya Ganatantra, Prem O Bibaher Shamparka, Charitrahinar Adhikar. Some of his translation works are Chikitsa Bijnan, Chikitsa Bijnaner Itihasa, Oitihasik Bastubad, Shanti Na Shakti, Hunaner Krishak Andolan, Jana-Juddher Bijoy Dirghajibi Hoke. Mortaza was awarded the National Bank Literary Award in 1964 for his book Jana Sankhya O Sampad.
During the war of liberation Mortaza used to give medical treatment and financial help to the injured freedom fighters. On 14 December 1971, the armed cadres of al-badr abducted him from his residence at 14/A Fuller Road. His dead body was recovered from the mass grave at Mirpur on 3 January 1972.
The postal department of Bangladesh government issued commemoration postal stamp in his name on the Martyred Intellectual Day on 14 December 1991. [Bayzid Khurshid Reaz]