Motijheel, Dhaka a historical place in Dhaka developed in the Mughal period and now represents the prime commercial area of the capital city. The area was widely known as the Mahal of Mirza Mohammad Mukim. There was a large pond within the boundary of the Mahal which was named as pond of Sukaku Mahal. This Sukaku dighi was subsequently came to be known as Motijheel. Mirza Mukim was the daroga in charge of the Mughal Nawara Mahal during the subadari of Mir Jumla (1660-1663 AD). Mirza Mukim's residence was on the southern side of Purana Paltan Maidan (presently the area of Dhaka Stadium). There were two big hillocks, one inside the Mahal and the other in the outside, of which one still lies in the premises of Bangabhaban. Tradition goes that Mirza Mukim had to lose all his assets for the activities of his mentally derailed children. His daughter is said to have thrown everyday a piece of her ornaments into the pond of the harem. Perhaps the dighi of Sukaku Mahal was subsequently known as Moti-Jheel (Pond of Pearl). Later on the place came to be known as Motijheel after the name of the Pond of Pearl.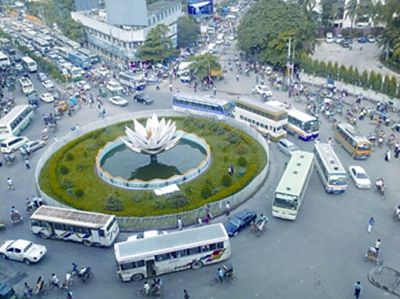 One Armenian merchant named Manuk is reported to have his residence in Motijheel during British rule. Nawab Khwaja Abdul Ghani (1813-1896) of Dhaka bought the place from Manuk. Subsequently a garden and a bunglow of the Nawabs were built in Motijheel. The very name Dilkusha is connected with Motijheel. Nawab Azim, brother-in-law of Nawab Sir Salimullah, built a beautiful palace named Dilkusha in Motijheel for recreation. In British period a road crossed through the Motijheel and Dilkusha area. Although modern skyscraper buildings have been built on the ruins of the palace an old mosque and the graveyard with tombs of some members of the Nawab family still survive. These tombs belong to Hazrat Shah Niyamatullah, Nawabzadi Ahamadi Banu (1912-1981), Nawabzadi Meher Banu, Khan Bahadur Khwaja Mohammad Azam, Khwaja Akther (1932-1994), Al-Haj Khwaja Ahmed (1934-1992), Khwaja Masood Nasrullah (d. 2000), Begum Jahanara Banu (wife of Khwaja Masood Nasrullah), Nawabzada Khwaja Nasrullah' (son of Nawab Sir Salimullah), Khwaja Khalid Nasrullah (son of Khwaja Nasrullah), Wahid Buksh Kadri (ICS) and Khwaja Mohammad Arin.
After the partition of India in 1947, the Municipal Corporation named the area as Dilkusha after the name of Dilkusha Palace. There is a reference to the existence of an old majar in Motijheel. It is presumed to belong to Hazrat Shah Jalal Dakhini. During the pre-Mughal period a sufi saint called Hazrat Shah Jalal Dakhini used to reside in the present Bangabhaban area. He died in 1476 AD (881 AH) and was buried here. His tomb still exists in the Bangabhaban premises.
The extant historical relics in the Motijheel area include Pir Jongi Mazar, Ramkrishna Mission, Dilkusha Jam-e-Masjid (Adjacent to present RAJUK Bhaban).
At present head offices of a number of industrial establishments exist in Motijheel. Since almost all the buildings of this area are the offices of commercial concerns the area is known as Motijheel Commercial Area. There is a prominent landmark in Motijheel named Shapla Square and a big archetype of Balaka built in commensurate with the trademark of Bangladesh Biman. This spot is known as Balaka Chattar (Balaka courtyard).
Besides there are Bangladesh Bank Bhaban, Janata Bank Bhaban, Agrani Bank Bhaban, Sena Kalyan Bhaban, WAPDA Bhaban, Ittefaq Bhaban, Dhaka Stock Exchange, Rajuk Bhaban and many other important establishments. [Fazilatun Nessa]
Bibliography H H Rahman, Asudegan-e-Dhaka (tr. Akram Faruk and ANM Ruhul Amin Chowdhury), Dhaka, 1991; MR Ali Tayesh, Tawarikh-i-Dhaka (tr.AMM Sharfuddin Ahmed), Dhaka, 1985.