Mukherji, Raja Dakshinaranjan
Mukherji, Raja Dakshinaranjan (1814-1878) editor and social worker, was born in 1814 in Kolkata. His ancestral home was at Bhatpara in Kanchrapara. He studied at Hare School and' hindu college and was a member of the young bengal group.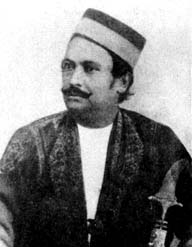 While still a student, Dakshinaranjan edited the journal Jvananvesan (1831). Subsequently he edited Bharat Patrika and Sumachar Hindustani. He used to contribute regularly to the bengal spectator. He used his oratory to oppose the government laws directed towards suppressing the voice of the press. He was the first Indian collector of Calcutta Municipality and also served as dewan of the nawab nazim of Murshidabad and deputy collector of the Raja of Burdwan. Dakshinaranjan was one of the founders of the bengal british india society (1843). He gave shelter to Reverend krishna mohan banerji when he was ostracised by his close relations for getting converted to christianity.  
In 1849 he donated land to John Eliot Drinkwater Bethune (1806-1862) to establish Bethune Girls School as the first girls' school at Kolkata, and thereafter assisted it in various ways.
Dakshinaranjan was repudiated by his well-wishers in Calcutta when, disregarding the prevailing social custom, he married the widow of Raja Tejachandra of Burdwan. He moved to Lucknow with his family in 1851. He founded the British Indian Society (1861) and Lucknow Canning College and bought the proprietary rights of the Lucknow Times and began editing it himself.
He supported the British during theSepoy Mutiny sepoy in 1857. In recognition of his loyalty, he was granted the Sankarpur taluk of Rai Bareily in 1859 by lord canning. In 1871 lord mayo awarded him the title of 'Raja'. Dakshinaranjan died on 15 July 1878 in Lucknow. [Shipra Dastider]