Mukhopadhyay, Balaichand (1899-1979) poet, story writer, playwright, essayist. Balaichand, well-known as 'Bonophool', was born on 19 July 1899 at village Monihari in Purnia district of Bihar. Balaichand's ancestral home was at Shialkhala of Hoogly district in West Bengal. His father Satyacharan Mukhopadhyay was a physician at the Monihari district board hospital in Purnia district. His mother was Mrinalini Devi.
Balaichand did his matriculation in 1918 from Purnia's Sahebganj School and did his ISc in 1920 from Hazaribagh's St Columbus College. The same year he took admission in Calcutta Medical College. When he was in the sixth year of his study he got himself transferred to the newly established Medical College at Patna. From there he obtained his MBBS degree in 1928.
Balaichand Mukhopadhyay began his career in Calcutta with an appointment in a private laboratory. Later he served for some time as medical officer at Azimganj Municipal Hospital in Murshidabad. But he earned fame by establishing his own Secro-Bactro Clinic at Khalifabad in Bhagalpur. In 1968 he came over to Calcutta for living permanently.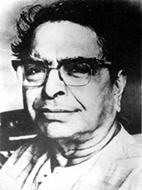 Balaichand Mukhopadhyay's interest in literature was noticeable from his childhood. While still in school, he started writing poems in the pen name of 'Bonophool'. He also edited a hand-written literary journal Vikash (1915). It contained essays, poems, short stories and translations. From now on, his literary essays used to be published in such reputed journals as bharati, prabasi and Kallol. The readers were impressed with the faultless metres of his poems, novelty of subjects in his short stories and his command over the language. The primary themes of his poems were nature, love and awarenes.
Balaichand Mukhopadhyay's credit in literary activities lies in story writing. He showed novelty in writing stories with varied plots. He wrote sixty one novels and six hundred short stories. The subjects of his novels include history, anthropology, medicine, psychology and love. His novels reveal intricate sensitivities of human relationships. His creative genius reflects the true response of an artist to human feelings. He endeavours to see human life with deep curiosity and sympathy. His more well-known novels are: Trinakhanda (1935), Kichhuksan (1937), Dvairath (1937), Mrgaya (1940), Jangam (three vols. 1943-1945), Agni (1945), Dana (three vols. 1948, 1950 and 1955), Sthavar (1951), Agnishwar (1959), Hatebazare (1961), Tribarna (1963), Bhubansom (1963), Prachchhanna Mahima (1967), Uday Austa (two vols. 1939 and 1974). His every novel was unique in structure. He narrates the stories some time in the form of dialogue in a play, some time in soliloquy and some time in poetry. His experiments in structuring the novels and putting their dialogues in place are rare in Bengali literature. He translated some English novels putting his own country's landscape in the background and native characters in roles. Several of his novels were made into films including Bhubansom.
Balaichand Mukhopadhyay's mission in life was to serve the neglected people of the society. He wished to portray the lives of very ordinary, hungry, neglected and hard working people in art. To him short stories were a unique medium to do so. In writing short stories he exhibited great craftsmanship. His short stories reflect a blending of varied hues of human life'in the selection of subjects and in many-faceted creativity. His short stories epitomize human life's varied self-contradictions, unfathomable mysteries and efforts to discover the self.
Balaichand Mukhopadhyay was an artist in describing characters and scences and was always keen to experiment. In planning short stories he showed originality, sharp intellect and many experiments to present human character to the amazement of his readers. This trend also makes his stories rich and deep in life's experience and impersonal thoughts. Another special and unique feature of his stories is short length. As most of his short stories have this feature they are called miniature stories. His well-known short story books are: Bonophooler Galpa (1936), Bindubisarga (1944), Odrishyaloke (1946), Tanni (1949), Anugamini (1958), Durbin (1961), Monihari (1963), Bahubarna '(1976) and Bonophooler Natun Galpa (1976).
Balaichand Mukhopadhyay also left his mark in writing plays. He wrote satirical plays, one-act plays, cineplays and playlets as well as plays depicting the lives of famous persons, throwing light on one more aspect of his creative talent. Two such plays by him were written on the lives of two great men of the nineteenth century michael modhusudan dutta and iswarchandra vidyasaagar. These were Srimadhusudan (1940) and Vidyasagar (1941). Through these two plays he was able to make these personalities widely and effectively known to the people. Balaichand Mukhopadhyay may truly be called a pioneer of plays of this genre in bangla literature. The speeches and addresses delivered by Balaichand Mukhopadhyay have been published in book form. Uttar (1953), Manan (1962), Bhashon (1978) and Dwijendradurpun '(1987) are books of his essays. Rabindrasmriti (1968) and Marjimohal (1977) are books that read like his diary. His autobiography Pashchatpot was published in 1978. Balaichand Mukhopadhyay's writings display cravings for a healthier life, awareness of the perception of value and hatred for blind superstitions. His technique is restrained and brief, his sight is dispassionate and detached; his ability to gather for his stories substance from all kinds of elements of life ' tiny or big, flimsy or towering, has given his writings diversity and depth. For his service to literature he was awarded Sharatsmriti Puraskar (1951), Rabindra Puraskar (1962) and Jagattarini Padak of Viswabharati Viswabidyalay (1967). Jadavpur Viswabidyalay awarded him DLitt in 1973 and the Indian Government awarded him the title of Padmabhusan in 1975. He died in Calcutta on 9 February 1979. [Begum Aktar Kamal]
Bibliography Prashantakumar Dasgupta, Bonophool, 'West Bengal Bangla Akademi, Kolkata, 2000; Nishith Mukhopadhyay, Kothakobid Bonophool, 'Barnali, Kolkata, 1989.