Mukti Bahini appellation of the forces of the war of liberation. The immediate precursor of the Mukti Bahini was Mukti Fauj, which was preceded denominationally by the Sangram Parishads formed in the cities and villages by the student and youth leaderships in early March 1971. When and how the Mukti Fauj was created is not clear nor is the later adoption of the name Mukti Bahini. It is, however, certain that the names originated from the people who joined the liberation struggle. The Mukti Bahini obtained strength from the two main streams of fighting elements: members of armed forces of erstwhile East Pakistan and members of the urban and rural sangram parishads.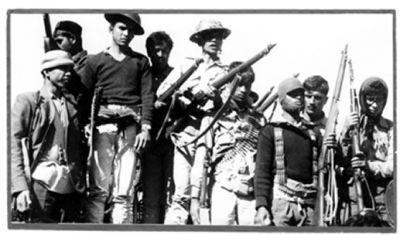 On 12 April 1971 Colonel (later General) Mag Osmany assumed the command of armed forces at Teliapara (Sylhet) headquarters. Osmany was made the commander-in-chief of Bangladesh Armed Forces on 17 April 1971. Serious initiative for organising the Bangladesh liberation army was taken between 11 and 17 July. In a meeting of the sector commanders in Calcutta four important resolutions were taken in consideration of strategic aspects of the war, existing problems and future course of resistance.
These were:
1.  Composition and tactics of the combatants would be as follows: (i) Guerrilla teams comprising 5 to 10 trained members would be sent to specific areas of Bangladesh with specific assignments; (ii) Combat soldiers would carry out frontal attacks against the enemy. Between 50 and 100 per cent would carry arms. Intelligence volunteers would be engaged to collect information about the enemy among whom 30 percent would be equipped with weapons;
2.  The regular forces would be organised into battalions and sectors.
3.  The following strategies would be adopted while carrying out military operations against the enemy; (i) a large number of guerrillas would be sent out inside Bangladesh to carry out raids and ambushes; (ii) industries would be brought to a standstill and electricity supply would be disrupted; (iii) Pakistanis would be obstructed in exporting manufactured goods and raw materials; (iv) communication network would be destroyed in order to obstruct enemy movements; (v) enemy forces would be forced to disperse and scatter for strategic gains; (vi) attacks would be launched on scattered enemy soldiers in order to annihilate them.
4.  The whole area of Bangladesh would be divided into 11 sectors.
Regular and irregular forces The regular forces consisted of the three forces: Z-Force under the command of Major Ziaur Rahman, K-Force under Khaled Mosharraf and S-Force under KM Shafiullah. Most of the soldiers came from East Pakistan Rifles and East Bengal Regiment. Those members of the EPR, Police and Army who could not be accommodated in these battalions were divided into units and sub-units to fight in different sectors. The irregular forces were those who were trained for guerrilla warfare. In addition, there were also some independent forces that fought in various regions of Bangladesh and liberated many areas. These included mujib bahini, Kaderia Bahini, Afsar Battalion and Hemayet Bahini.
Bangladesh Navy Bangladesh Navy was constituted in August 1971. Initially, there were two ships and 45 navy personnel. These ships carried out many successful raids on the Pakistani fleet. But both of these ships were mistakenly hit and destroyed by the Indian fighter planes on 10 December 1971, when they were about to launch a major attack on Mongla seaport.
Bangladesh Air Force started functioning on 28 September at Dimapur in Nagaland under the command of Air Commodore AK Khondakar. Initially, it comprised of 17 officers, 50 technicians, 2 planes and 1 helicopter. The Air Force carried out more than twelve sorties against Pakistani targets and were quite successful during the initial stages of the Indian attack in early December.
Mukti Bahini in the final phase The liberation forces started carrying out massive raids into enemy fronts from October 1971. After the signing of the Indo-Soviet Treaty in August 1971, India began to demonstrate more interest in the Bangladesh war. And finally, India entered the war on 3 December 1971. In fact, the Indian soldiers were already participating in the war in different guises since November when the freedom fighters had launched the Belonia battle.
Because of the geo-morphology of Bangladesh, the war could not be won too swiftly. Even then, Dhaka was liberated in a matter of two weeks, the previous successes of the freedom fighters during the preceding few months having been a major contributing factor.
On 16 December 1971, commander of the 14 division of Pakistan army Major General Jamshed surrendered to Indian General Nagra near Mirpur bridge in Dhaka. At 10.40 am, the Indian allied force and Kader Siddiqui entered Dhaka city. That signaled the end of 9-month long War of Liberation of Bangladesh. Stray battles were still waged at various places of the country.
The Commander of Eastern Command of the Pakistan Army Lt General Ameer Abdullah Khan Niazi surrendered to the commander of the joint Indo-Bangladesh force and the chief of Indian eastern command Lt. General Jagjit Singh Aurora. The Bangladesh Forces were represented at the ceremony by Group Captain AK Khondakar. [Helal Uddin Ahmed]