Mustafa, Golam (1935-2003) performing artist mainly in the branches of theatre, cinema and poetry recitation. Born on 2 March 1935 in Khulna district, Golam Mustafa began his performing career at an early age.
He first acted in a play Pallimabgal staged at the aswini kumar town hall, Barisal in 1945. In the same year he drew attention of the audience by reciting of Kazi Nazrul Islam's poem 'Oi Nam' at the Barisal Zilla School on the occasion of 'Fatiha-i-Yazdaham'.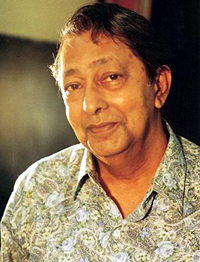 Golam Mustafa had been performing mainly in theatre until early 1960s and he extended his performing career to cinemas. He made immense reputation as an actor in both cinema and theatre.
One specialty about him as an actor was that he could perform equally successfully in all sorts of roles, be it a hero or a villain. He made his mark even as a side actor. He performed in about three hundred films in various characters, both in Bangla and Urdu. Noted of his films are (in Urdu) Pireet Na Jane Reet, Kajal, Chokhai, Chanda, Talash, etc; and (in Bangla) Ali Baba Challish Chor, Rajdhanir Bookay, Nijeke Haraye Khunji, Raktakta Bangla, Rupali Saikate, Simana Periye, Titas Ekti Nadir Nam, Surya Sangram, Padma Nadir Majhi, Emilir Goyenda Bahini, Shubhada, Shraban Megher Din, Dhire Bahe Meghna, Chandranath, Debdas, etc. In addition to acting in films, Golam Mustafa performed well in dramas staged in theatre and in teleplays. He also acted as a role model in a number of commercials.
Golam Mustafa was an accomplished cultural activist and a prominent person in the literary society. He wrote features on social and political issues for the periodicals. He also wrote on modern films. He translated the Fair Wind to Virginia by Colonel Maigs. It was published by the United States Information Service, Dhaka, under the title Natun Juger Bhore. Many of his translation works were published in different weekly magazines. In recognition of his contribution to film Golam Mustafa was honoured with the Ekushey Padak in 2001. He also received the National Film Award and the Bangladesh Film Journalist Association Award. Golam Mustafa died on 20 February 2003. [Sambaru Chandra Mohanta]