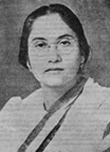 Nag, Lila (1900-1970) political activist, social reformer, journalist, philanthropist. The first female student at the university of dhaka, she was a pioneer in the history of women's education and women's movement in East Bengal. Born at Goal Para under Assam on 21 October 1900, Lila Nag was the daughter of a civil servant and belonged to a cultured and educated middle class family of Sylhet. She graduated with honours in English from bethune college, Calcutta and was awarded the 'Padmabati' Gold Medal for her academic performance (she had stood first in the examination). When her father was transferred to Dhaka she got admitted into University of Dhaka and obtained an MA in English in 1923.
Lila Nag is renowned as an activist and educational reformer in a Dhaka based Satyagraha movement which was a focal point of anti-British activism, secret societies such as jugantar party and anushilan samiti, dubbed 'terrorist' by the British government. She was involved in the activities of these organisations during her student life. Lila Nag as the Joint Secretary of Nikhil Banga Nari Votadhikar Samiti (All Bengal Women's Franchise Association) had arranged various meetings to form public opinion about social and economic rights of women. In December 1923, she established 'Dipali Sangha', an association for women, with the main objective of enhancing women's education. She founded a school named Dipali School and twelve other free primary schools with the help of the Dipali Sangha. She also established two other schools known as Nari Shiksa Mandir (Temple of Women's Education) and' Shiksa Bhaban (House of Education). She made an important contribution to Muslim women's education. One of her schools (Dipali 1) later emerged as the Qamrunnessa Girls' School in Dhaka.
In 1925 she became a member of a revolutionary group called 'Shrisangha'. She built a Dhaka-based institution for female students and extended its branches in many places of Assam and Bengal. For the benefit of female students she established a Women's Hostel at Calcutta. As a member of the secret revolutionary groups (the best known being Anushilan Samiti and Jugantar) in Dhaka, Lila aided them and acted as the liaison between these groups and the Bengali intelligentsia, especially women. She acted as a source of inspiration to well-known women revolutionaries such as pritilata waddedar.
During the troubled years of 1927-28, when women were targets of physical attacks, Lila Nag set up a fund entitled 'Mahila Atmaraksa Fund' (Fund for women's self-defence), one of the first martial self-defence groups in the region. She also established an institution known as 'Gana Shiksa Parisad' (Association for Mass Education) for spreading female education at a mass level.
Lila's other claim to fame is her literary activity as an editor of the influential magazine Jayashree, devoted to women's issues. Directed exclusively by women, this magazine published articles written by women. As an activist in the salt satyagraha, Lila formed 'Dhaka Mahila Satyagraha Committee'. After the arrest of Anil Ray, the chief of Shrisangha, the responsibility of running the organisation fell on Lila Nag. She was arrested on 20 December 1931 and sent to jail as a detainee.
In 1939 Lila Nag married her compatriot Anil Ray. The couple joined netaji subhas chandra bose to form the forward bloc. In July 1940 Lila Nag and Anil Ray were accused of defacing the Halwell Monument in Calcutta and again sentenced to jail. After her release, she had to accept the responsibility of the editorship of Forward Block, a weekly mouthpiece of Netaji's party. Lila was taken into custody in 1940 and was confined up to 1946. Afterwards she moved to West Bengal, where she was involved in Indian national politics and was elected a member of the Indian Constituent Assembly from Bengal in 1946. She contributed to drafting the constitution of India. After the calcutta riots (1946) and Noakhali riots of 1946 she participated in the relief work of the victims in Noakhali. She also set up a philanthropic organisation named the 'National Service Institute'. She led a full, active life till the last. [Sonia Amin]