Naogaon District (rajshahi division) area 3435.67 sq km, located in between 24°32' and 25°13' north latitudes and in between 88°23' and 89°10' east longitudes. It is bounded by west bengal state of India on the north, natore and rajshahi districts on the south, joypurhat, bogra and Natore districts on the east, nawabganj district on the west.
Population Total 2391355; male 1228253, female 1163102; Muslim 2062616, Hindu 256596, Buddhist 14313, Christian 336 and others 57494. Indigenous communities such as santal, oraon, munda belong to this upazila.
Water bodies Main rivers: atrai, punarbhaba, little jamuna, nagar, Shib; chalan beel is notable.
Administration Naogaon Sub-division, under Rajshahi district, was established in 1877 and was turned into a district in 1984. Municipality was formed in 1963. Of the eleven upazilas of the district niamatpur is the largest (449.10. sq km, it occupies 13.07% of the total area of the district) and badalgachhi is the smallest upazila (213.98 sq km).
District
Area (sq km)
Upazila
Municipality
Union
Mouza
Village
Population
Density (per sq km)
Literacy rate (%)
Urban
Rural

3435.67

11

2

99

2565

2799

222576

2168779

696

44.4
Others Information of District

Name of Upazila

Area
(sq km)

Municipality

Union

Mouza

Village

Population

Density
(per sq km)

Literacy rate (%)

Atrai

284.41

-

8

155

201

179799

632

41.8

Dhamoirhat

300.80

-

8

212

260

169693

564

47.9

Niamatpur

449.10

-

8

317

341

226614

505

41.1

Patnitala

382.39

1

11

297

292

209440

108

49.8

Porsha

252.83

-

6

155

253

121809

482

35.6

Badalgachhi

213.98

-

8

247

237

186058

107

45.2

Mahadebpur

397.67

-

10

307

302

265763

668

45.3

Manda

375.94

-

14

299

291

352560

938

40.7

Naogaon Sadar

275.73

1

12

237

215

354570

1286

48.2

Raninagar

258.33

-

8

188

173

181196

701

47.7

Sapahar

244.49

-

6

151

234

143853

588

40.4
Source Bangladesh Population Census 2001, Bangladesh Bureau of Statistics.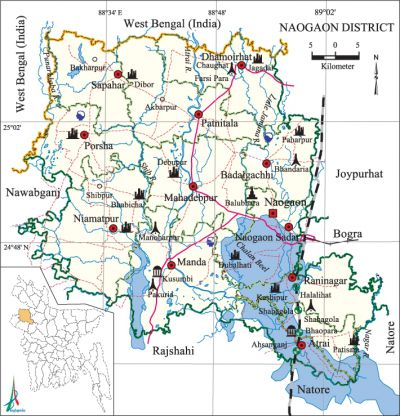 History of the War of Liberation In 1971, the headquarters of the Wing 7 of the EPR was in Noagaon. In April the Pak army conducted surprise attacks on the villages Bhabicha and Niamatpur of Niamatpur upazila and killed a number of innocent people. They also conducted plundering and set many houses of these villages on fire. Eleven freedom fighters including Dewan Azizur Rahman and ANM Salek Chowdhury raided the Niamatpur Police Station in which 6 razakars surrendered with their arms and ammunitions. On 24 April the Pak army killed 78 innocent persons of village Ataikula under Raninagar upazila. In August 1971 the Pak army killed 128 persons at village Pakuria of Bharso union under Manda upazila and buried them in a mass grave. On 14 August, the freedom fighters of Sapahar upazila destroyed a Pak military vehicle by dynamite explosion on the Hapania Road; they also killed 5 Pak soldiers. In retaliation, the agitated Pak army indiscriminately killed many people of Hapania and the nearby villages. A battle between the freedom fighters and the Pakistan army was fought in village Bandaikhara on 19 September 1971 in which a number of freedom fighters were killed. On 15 October an encounter was held between the freedom fighters and the Pak army at Kola Bhandar of Badalgachhi upazila in which many Pak soldiers were killed and so were two freedom fighters. The Pak army brutally killed 11 persons of village Mohanpur under this upazila. The Pak army conducted mass killing under the Nitpur Baliachanda Bridge, on the eastern side of Shisha bazar and on the southern side of Ganguria College of Porsha upazila. They killed many people of villages Kola, Bhandarpur, Mithapur, Balubhara; they also set many houses of these areas on fire. The Pak army conducted mass killing at village Paharpur under Noagaon sadar upazila. They burnt 14 innocent persons to death at village Kulfatpur of Dhamoirhat upazila. A battle was fought between the freedom fighters and the Pak army at Mahisantosh of this upazila in which 25 Pak soldiers were killed and so were two freedom fighters. Direct encounters between the Pak army and the freedom fighters were held at Piral Danga, Gangra, Kulfatpur and Rangamati with heavy casualty on both sides. Besides, one freedom fighter was killed in an encounter with the Pak army at Agradhigun.
Marks of the War of Liberation Mass grave 19; mass killing site 7, liberation sculpture 3, memorial monument 1.
Literacy rate and educational institutions Average literacy 44.4%; male 49.4%, female 39.1%. Educational institutions: college 45, technical college 10, secondary school 584, primary school 1342, community school 22, kindergarten 23, madrasa 244. Noted educational institutions: Dhamoirhat MM Degree College (1970), Manda Momin Shahana Degree College (1970), Niamatpur Degree College (1980), Naogaon Government College (1962), Mahadebpur Government College (1967), Molla Azad Memorial College (1968), Naogaon Government BMC Mohila College (1972), Sher-e- Bangla College (1972), Badalgachhi Government College (1972), Sapahar Government College (1973), Dubalhati Raja Haranath High School (1864), Nagar Kusumba Multilateral High School (1882), Naogaon KD Government High School (1884), Mainam Multilateral High School (1895), Bhimpur Multilateral High School (1901), Dhamoirhat Sofiya Pilot High School (1904), Naogaon PM Girls' High School (1909), Manda SC Pilot High School (1910), Kamta SN High School (1913), Ratoal RN High School (1913), Hamidpur Jigatala High School (1913), Chakla Multilateral High School (1914), Chak Athitha High School (1914), Balubhara RB High School (1914), Naogaon Zila School (1917), Kirtipur Multilateral High School (1921), Mahadebpur' Sarbamangla High School (1921), Katabari High School (1924), Jontigram TA High School (1926), Naogaon Central Girls' High School (1926), Khottapara ML High School (1929), Porsha High Madrasa cum High School (1927), Namazgar Gausul Azam Kamil Madrasa (1951), Naogaon Islamia Fazil Madrasa (1962), Nazipur Siddiqia Fazil Madrasa (1969), Dhamoirhat Siddiqia Fazil Madrasa (1974).
Main sources of income Agriculture 74.29%, non-agricultural labourer 2.45%, industry 1.03%, commerce 9.89%, transport and communication 2.74%, service 4.05%, construction 0.70%, religious service 0.12%, rent and remittance 0.21% and others 4.52%.
Newspapers and periodicals Daily: Joybangla, Ishtehar, Alokbarta; weekly;' Bangabani, Barendra Batra, Naba Batra, Banglar Kantha, Desher Bani, Banka Chand, Nabayug, Ei Shomoy; fortnightly: Suryamukhi; monthly: Nabadiganta. Besides, every year the district administration publishes an annual magazine on the occasion of the birth anniversary of Rabindranath Tagore on 25 Baishakh.
Folk culture Notable folk culture include folk music: Palligeeti, Murshidi, Bhatiali and Meyeli geet (songs sung by women); folk festivals: Bangla Nababarsha or Pahela Baishakh (Bangla new year's day), Charakpuja, Nabanna, Halkhata, Berabashan; folk games: Ha-du-du, Boat Race, Dariabandha, Lathi Khela (stick game).
Tourists spots Paharpur Buddhist Vihara and Halud Vihara (Badalgachhi), Jagaddal Vihara, Alta Dighi (Mahadebpur), Dibor Dighi (Patnitala), Mahadebpur Rajbari (Mahadebpur), Kashimpur Rajbari and' Balihar Rajbari (Naogaon Sadar), Kusumba Mosque, Paikbanda Salban (Atrai and Patnitala upazilas). [Rezaul Karim]
See also The upazilas under this district.
References Bangladesh Population Census 2001, Bangladesh Bureau of Statistics; Cultural survey report of Naogaon District 2007; Cultural survey report of Upazilas of Naogaon District 2007.