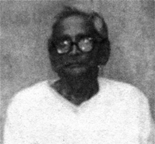 Neogi, Rabindra Nath (1909-2002) revolutionary leader. He was commonly known as Rabi Neogi. Rabi Neogi was born on 29 April 1909 in a petty zamindar family of Gridanarayanpur (Old Garuhati) in Sherpur district. His father Ramesh Chandra Neogi and mother Surabala Neogi were involved in Congress politics.
After passing Matriculation in 1926 from Sherpur Govinda Kumar Peace Memorial High School (at present GK Pilot School) he got himself admitted in the Intermediate class atananda mohan college, Mymensingh. He was, however, expelled from the college in 1927 following a clash between the students and the police. He then went to Vidyasagar College, Calcutta for studies, where he came in contact with the revolutionaries of the Yugantar group. After passing Intermediate of Arts examination he came back to Sherpur in order to organizecivil disobedience movement there. Rabi Neogi played an important role in the Satyagraha Movement of the Congress in 1930 at Mymensingh. He was one of the seventeen political workers who were jailed for involvement in the movement.
In the meantime, the Chittagong Armoury Raid and the Youth Revolt led by Masterda surya sen took place on 18 April 1930. A number of leaders and workers belonging to Yugantar group were arrested of whom Rabi Neogi was one. Later he was sentenced to seven years' imprisonment due to his alleged involvement in the armed raid on a zamindar house at Salda in Jhinaigati area of Sherpur in 1931.
'He was first confined in Rajshahi Jail. But as he was considered a dangerous detenue he was then transferred to Andaman Cellular Jail and was detained there for more than five years. During his confinement in the Andaman Jail he joined communism along with some other revolutionaries. After his release in 1937 during the period of first parliamentary government of undivided Bengal he returned to Mymensingh and joined the Communist Party of India.
In the 1940s Rabi Neogi engaged himself in organising the peasant movement as well as the communist party in greater Mymensingh. He played a pioneering role in organizing the provincial peasant conference held at Nalitabari in 1943. Rabi Neogi was also one of the leading organizers of the All India Peasant Conference held on 5-9 April 1945 at Netrokona under the auspices of the Mymensingh district unit of Communist Party. After the establishment of Pakistan in 1947 he emerged as one of the leaders of the East Pakistan Communist Party, and after the emergence of Bangladesh in 1971 he had been a prominent leader of the communist party of bangladesh (CPB).
Neogi suffered five years imprisonment without any break from 1948 to 1953 for his participation in the tebhaga movement. After the assasination of Banghbandhu 'sheikh mujibur rahman on 15 August 1975 the ruling authority arrested Rabi Neogi along with other political leaders. His prison life ended in 1988 when he was last arrested during the autocratic rule of General HM Ershad. Total length of Rabi Neogi's prison term was more than thirty years. But at the fag-end of his life he received recognition for his sacrifices. Rabi Neogi was one of those surviving Andaman prisoners who were given felicitation on 25-28 February 1991 in the city of Mumbai, India.
Rabi Neogi wrote a number of articles which include Ekattur-er Vijoy-gantha: Sherpur, Sherpurer Itihasey Muslim Abadan, Tebhaga Andolon, Sangram O Bhabishyat.
Rabi Neogi died at Sherpur on 10 May 2002. [Rangalal Sen]