Netrokona District (dhaka division) area 2747.91 km sq km, located in between 24°34' and 25°12' north latitudes and in between 90°00' and 91°07' east longitudes. It is bounded by the Meghalaya state of India on the north, kishoreganj district on the south, sunamganj district on the east and mymensingh district on the west.
Population Total 1988188; male 1016991, female 971197; Muslim 1762534, Hindu 204329, Buddhist 18905, Christian 164 and others 2256. Indigenous communities such as garo, Hajong, Hodi and Banai belong to this upazila.
Water bodies Main rivers: Dhanu, Dhalai, Ghorautra, piyain, Gunai, Someshwari.
Administration Netrokona Sub-division was formed in 1882 and was turned into a district in 1984. Of the ten upazilas of the district kalmakanda is the largest (377.41 sq km, it occupies 13.43% of the total area of the district) and atpara is the smallest (195 sq km).
District
Area (sq km)
Upazila
Municipality
Union
Mouza
Village
Population
Density (per sq km)
Literacy rate (%)
Urban
Rural

2747.91

10

4

85

1612

2279

187839

1800349

707

34.9
Others Information of District

Name of Upazila

Area
(sq km)

Municipality

Union

Mouza

Village

Population

Density
(per sq km)

Literacy rate (%)

Atpara

195.00

-

7

140

175

132499

679

33.7

Kalmakanda

377.41

-

8

179

343

234398

621

30.2

Kendua

303.60

1

13

227

289

286594

944

33.1

Khaliajuri

249.42

-

5

61

66

82322

330

34.5

Durgapur

279.28

1

7

134

205

198326

710

33.6

Netrokona Sadar

340.35

1

12

275

343

329732

969

44.8

Purbadhala

308.03

-

11

226

334

280372

910

35.6

Barhatta

221.50

-

7

147

238

158133

714

33.4

Madan

225.85

-

8

95

122

142072

630

27.1

Mohanganj

243.20

1

7

128

163

143740

591

34.3
Source Bangladesh Population Census 2001, Bangladesh Bureau of Statistics.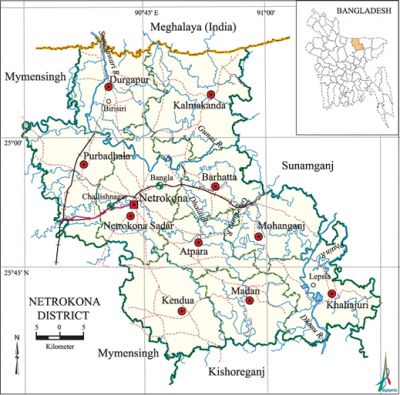 History of the War of Liberation In the beginning of the war of liberation the freedom fighters destroyed the Thakurakona Railway Bridge, on the western extremity of the Barhatta upazila by explosion to disrupt the entry of the Pak army. On 29 April 1971, the Pak army captured 4 persons of Netrokona sadar and shot them dead at the Trimohani Bridge on the Purbadhala Road. A direct encounter was held between the freedom fighters and the Pak army at the junction of three roads in Nazirpur union of Kalmakanda upazila on 26 July in which 7 freedom fighters were killed. On 19 August 1971, the freedom fighters attacked the Atpara Police Station and killed a number of razakars and the OC of the Thana; they also captured arms and ammunitions of the Thana. In August the people of village Gaokandhi under Durgapur upazila killed two Pak soldiers and one razakar. In retaliation, the Pak army brutally killed about one hundred innocent people of the village. On 7 October a battle was fought between the freedom fighters and the Pak army and razakars at Atpara sadar' in which three razakars were killed. In August 1971 the freedom fighters raided the Kendua Police Station and captured a bulk of arms and ammunitions. On 13 November they captured 12 rifles and arrested 8 razakars from Boser Bazar area of Kendua. On 20 November the freedom fighters attacked the Pak military camp located on the Patkura Bridge and killed a number of razakars; in this incident one freedom fighter was also killed. On 8 December the freedom fighters killed 19 razakars at Patharghata of Mohanganj upazila. Three freedom fighters were killed in an encounter with the Pak army on 9 December at Netrokona sadar. Besides, in another encounter between the freedom fighters and the Pak army at the Agricultural Farm the Pak army was defeated; in this encounter two freedom fighters were also killed.
Marks of the War of Liberation Mass grave 1, mass killing site 4, memorial monument 6.
Literacy rate and educational institutions Average literacy 34.9%; male 37.9%, female 31.9%. Educational institutions: college 28, secondary school 236, primary school 1083, madrasa 160. Noted educational institutions: Kendua' Joyhari Pilot Government High School (1832), Netrokona Datta High School (1889), Birisiri Pishinal High School (1892), Birisiri Mission Girls' High School (1899), Netrokona Chandranath High School (1909), Barwari High School (1911), Sandikona High School (1912), Anjuman Model Government High School (1914), Barhatta CKP Pilot High School (1914), Asujia JNC High School (1916), Purbadhala Pilot High School (1916), Naopara High School (1918), SKPS High School (1918), Ghagra Bilateral High School (1919), Bekhairm Hati NK High School (1922), 'Dharmaroy Ramdhan High School (1930), Gopalasram Vairab Chandra High School (1930), Mohanganj 'Government Pilot High School (1931), Baushi Ardhachandra High School (1939), Baniajan City High School (1940), Kalmakanda Pilot High School (1942), Gujirkona High School (1946), Jahangirpur Tahura Amin High School (1946), Saldigha GG High School (1954), Kutubpur High School (1964), Khaliajuri High School (1967), Durgapur Entrance High School (1879), Teligati BNHK Academy (1905), Upendra Biddyapit (1913-14), Mangalsidha MS Junior School (1925).
Main sources of income Agriculture 72.43%, non-agricultural labourer 3.40%, industry 0.53%, commerce 10%, transport and communication 2.11%, service 3.92%, construction 0.91%, religious service 0.26%, rent and remittance 0.23% and others 6.21%.
Newspapers and periodicals Daily: Jananetra, Banglar Darpan, Deshkanthaswar, 'Desher Dak, Netra (defunct); weekly: Muktir Pratik; monthly: Makrasha; defunct monthly: Arya Pradip, Koumadi, Mahat Uddesha, Prantabashi, Julfikr, Arya Prava; quarterly: Ekush Satoker Srot, Someshwari, Jalsiri, Matir Subas;' literary periodical: Smriti Kanan, Susong Barta, Dhanu, Uttar Akash, Nabanur; research periodical: Janira; periodical: Akshar, Chetana, Spandan, Smriti-71, Bijoy, Sreejani.
Folk culture maimansingha gitika, Baul song, Palageet, proverbs of the Garo community, rhymes and sloka of the Hajong community, riddle (thachi katha) and Gahen (song) are most notable.
Tourists spots Birisiri Tribal Cultural Academy, Durgapur Martyr Memorial Monument, garo Baptist Convention Centre (Durgapur), Rashimoni Ranikhong Catholic Church, tombs of 7 freedom fighters (Kalmakanda), tomb of Hazrat Shah Sultan Kamrudin at Madanpur (Netrokona Sadar). [Sanjay Sarkar]
See also The upazilas under this district.
References Bangladesh Population Census 2001, Bangladesh Bureau of Statistics; Cultural survey report of Netrokona District 2007; Cultural survey report of upazilas of Netrokona District 2007.