Niazi, Lt General Ameer Abdullah Khan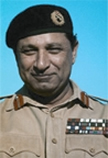 Niazi, Lt General Ameer Abdullah Khan (1915-2004) Commander of Eastern Command of the Pakistan Army during the war of liberation. He was the signatory to the surrender document at the Ramna Race Course, Dhaka, accepting defeat in the hands of the joint command of the Indian Army and the mukti bahini.
Born in 1915 in Nuabwali in the Punjab, Ameer Abdullah Khan Niazi joined the Second World War on a short-course recruitment of the Rajpur Regiment in 1942 and was one of the most decorated soldiers of the Pakistan Army. He held various command positions including 5 Punjab during 1965 War (awarded the Hilal-e-Jurat), 14 Para Brigade during operation in Pakistan-held Kashmir and Sialkot, and Martial Law Administrator in Karachi and later in Lahore. He was commandant in the School of Infantry and Tactics, Quetta, and taught at Command and Staff College, Quetta. While commanding 10 Division in Lahore in April 1971 Niazi was sent as Commander of Eastern Command to East Pakistan to replace Lt General Tikka Khan.
Niazi was asked by the Pakistan government to do what Tikka Khan had failed to achieve. Tikka failed to contain the freedom fighters. According to Niazi's own admission, the freedom fighters were already in the occupation of the countryside and every day their strength was increasing with the corresponding decrease of the hold of the Pakistan army. He changed Tikka's strategy of scaring the people by brutal attacks and deployed armies in all strategic points in defensive tactics, as he asserted in his memoirs (1998). But in spite of his best of alertness and strategic defence Niazi could not contain the operations of the Mukti Bahini who continued to gain ground increasingly.
The guerilla warfare of the Mukti Bahini eventually led to the open war between India and Pakistan from November 1971 when the counter-insurgency operations had already turned ineffective. Against Indian air attacks from 3 December 1971, Niazi's defence system broke down within a couple of days. From 10 December his army units, deployed in the border zones, began making safe retreats and the process continued until 14 December when Niazi had lost all powers to stand on in the war any more. Thus he resolved to avert wholesale massacre of Pak armies by expressing his willingness to surrender to the Joint Command on 16 December 1971. In accordance with the terms of surrender the Pakistani forces were taken safely to India as prisoners of war.
General Niazi and other army personnel were released from the Indian captivity in December 1973. In Rawalpindi he had a mock trial and was acquitted. Niazi later joined politics and consistently opposed ZA Bhutto whom he made responsible for the break-up of Pakistan. During Bhutto's regime Niazi suffered jail terms twice.
He died on 2 February 2004. [Sirajul Islam]