Nikli Upazila (kishoreganj district) area 214.40 sq km, located in between 24°15' and 24°27' north latitudes and in between 90°52' and 91°03' east longitudes. It is bounded by karimganj and mithamain upazilas on the north, bajitpur upazila on the south, Mithamain and austagram upazilas on the east, katiadi and Karimganj upazilas on the west.
Population Total 120105; male 61408, female 58697; Muslim 113198, Hindu 6737, Buddhist 17 and others 153.
Water bodies Main rivers: Baulai, Dhanu, Shingua, Ghorautra; Tegulia Beel, Bara Beel, Baraliarkando Beel and Neora Beel are notable.
Administration Nikli Thana was formed in 1981 and it was turned into an upazila on 24 March 1983.
Upazila
Municipality
Union
Mouza
Village
Population
Density (per sq km)
Literacy rate (%)
Urban
Rural
Urban
Rural

-

7

43

125

17957

102148

560

30.9

22.6
Upazila Town

Area (sq km)

Mouza

Population

Density (per sq km)

Literacy rate (%)

7.62

2

17957

2357

30.9
Union
Name of union and GO code
Area (acre)
Population
Literacy rate (%)
Male
Female

Karpasha 57

4498

6974

6709

13.43

Gurai 38

10710

10830

10244

18.27

Jaraitala 47

6099

9581

9326

17.60

Chhatir Char 38

1487

3820

3472

19.06

Dampara 09

7065

9458

8842

32.16

Nikli 76

7568

15047

14569

28.09

Singpur 85

12138

9518

8707

21.80
Source Bangladesh Population Census 2001, Bangladesh Bureau of Statistics.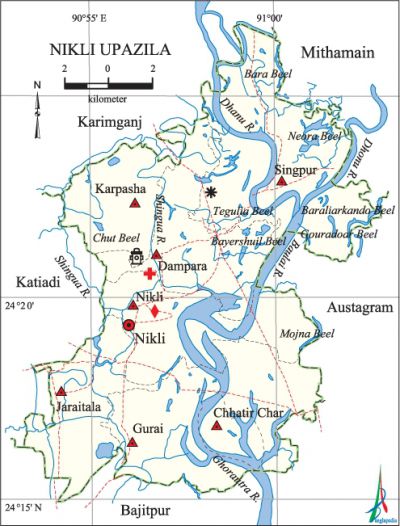 Archaeological heritage and relics Gurai Jami Mosque (1680 AD), Sapur Mosque (1700 AD), Kursa Shahi Mosque (1707).
History of the War of Liberation In the middle of July 1971 the Pak army killed about fifty innocent people at Shashan Ghat (cremation centre). On 6 September the Pak soldiers killed 25 innocent people at village Gurai. A number of freedom fighters were killed in an encounter with the Pak army on 19 October. Nikli upazila was liberated on 20 October.
Marks of the War of Liberation Mass killing site 1: at a home-stead behind the Shashan Ghat adjacent to Nikli Bazar.
Religious institutions Mosque 88, temple 17, tomb 12, akhra 5.
Literacy rate and educational institutions Average literacy 23.9%; male 28%, female 19.6%. Educational institutions: college 1, primary school 57, kindergarten 4, madrasa 9. Noted educational institutions: Muktijoddha Adarsha College (1995), Nikli Gorachand Pilot Multilateral' High School (1938).
Cultural organisations Library 7, club 24, theatre group 2, playground 7.
Main sources of income Agriculture 72.06%, non-agricultural labourer 3.83%, industry 0.39%, commerce 10.76%, transport and communication 1.10%, service 2.74%, construction 0.75%, religious service 0.19%, rent and remittance 0.21% and others 7.97%.
Ownership of agricultural land Landowner 50.22%, landless 49.78%; agricultural landowner: urban 42.27% and rural 51.65%.
Main crops Paddy, wheat, maize, potato, mustard, ground-nut, vegetables.
Extinct or nearly extinct crops Linseed, gram, jute.
Main fruits Mango, jackfruit, blackberry, banana, coconut, plum.
Fisheries, dairies and poultries Fishery 431, poultry 74, hatchery 1.
Communication facilities Pucca road 22 km, semi-pucca road 15 km, mud road 200 km; waterway 17 nautical miles.
Extinct or nearly extinct traditional transport Palanquin.
Noted manufactories Rice mill, saw mill, ice factory, biscuit factory, bakery.
Cottage industries Goldsmith, blacksmith, potteries, weaving, bamboo and cane work, wood work, tailoring.
Hats, bazars and fairs Hats and bazars are 15, fairs 15, most noted of which are Nikli Puratan Bazar, Nikli Natun Bazar, Daspara Bazar, Majlishpur Bazar, Mela near at Gurai Mosque and Paush Samkranti Mela at Saitdhar.
Main exports Paddy, mustard, ground-nut, vegetables.
Access to electricity All the unions of the upazila are under rural electrification net-work. However 12.95% of the dwelling households have access to electricity.
Sources of drinking water Tube-well 95.80%, pond 0.62%, tap 0.32% and others 3.26%. The presence of arsenic has been detected in shallow tube-well water of the upazila.
Sanitation 10.49% (rural 8.90% and urban 19.35%) of dwelling households of the upazila use sanitary latrines and 78.37% (rural 79.66% and urban 71.20%) of dwelling households use non-sanitary latrines; 11.14% of households do not have latrine facilities.
Health centres Upazila health complex 1, hospital 1, family welfare centre 3, satellite clinic 2, community clinic 15, pathology centre 18.'
Natural disasters The flood of 1988 caused heavy damages to settlements, crops and other properties of the upazila.
NGO activities Operationally important NGOs are brac, proshika, Swanirvar Bangladesh. [Md. Abdus Salam]
References Bangladesh Population Census 2001, Bangladesh Bureau of Statistics; Cultural survey report of Nikli Upazila 2007.