Nilphamari District (rangpur division) area 1580.85 sq km, located in between 25°44' and 26°19' north latitudes and in between 88°44' and 89°12' east longitudes. It is bounded by west bengal state of India on the north, rangpur district on the south, lalmonirhat district on the east, panchagarh and dinajpur districts on the west.
Population Total 1571690; male 810268, female 761422; Muslim 1311914, Hindu 257635, Buddhist 877, Christian 155 and others 1109. Indigenous community such as santal belongs to this upazila.
Water bodies Main rivers: tista, Jamuneshwari, Buri Tista, Ghagat.
Administration Nilphamari Sub-division was formed in 1875 and it was turned into a district in 1984. Of the six upazilas of the district nilphamari sadar is the largest (373.09 sq km) and saidpur is the smallest (121.68 sq km).
District
Area (sq km)
Upazila
Municipality
Union
Mouza
Village
Population
Density (per sq km)
Literacy rate (%)
Urban
Rural

1580.85

6

3

61

371

370

235839

1335851

994

98.8
Others Information of District

Name of Upazila

Area
(sq km)

Municipality

Union

Mouza

Village

Population

Density
(per sq km)

Literacy rate (%)

Kishoreganj

204.90

-

9

51

53

253192

1236

32.7

Jaldhaka

303.52

-

12

69

69

274736

905

33.0

Dimla

326.80

-

10

53

53

223975

685

36.2

Domar

250.84

1

10

47

47

215699

860

44.7

Nilphamari Sadar

373.09

1

15

109

108

371879

997

39.2

Saidpur

121.68

1

5

42

40

232209

1908

48.5
Source Bangladesh Population Census 2001, Bangladesh Bureau of Statistics.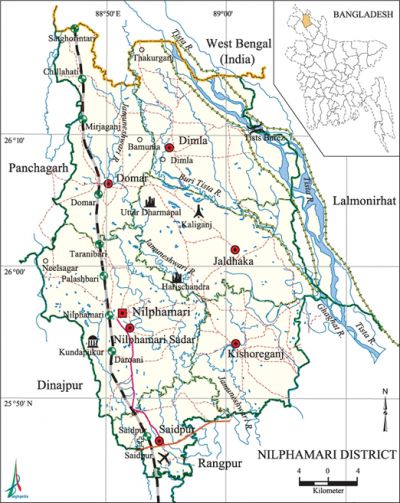 History of the War of Liberation On 23 March the non-Bengalees (Biharis) of Saidpur launched attack on the innocent Bengalees and killed a number of them. On 7 April the Pak army conducted torture and killing in this upazila. On 7 April, the freedom fighters captured 300 rifles and 10,000 ammunitions from the Armoury. On 8 April the Pak army took control over Nilphamari district town. In May, the Pak army in collaboration with the razakars captured the noted businessman of Kishoreganj, Rabindranarh Kundu, kept him confined for eight days and killed him. On 23 June the Pak army shot 350 persons dead at Golahat of Saidpur. On 11 December the Pak army captured Mustafizur Rahman of Kishoreganj and later on killed him. An encounter was held between the freedom fighters and the Pak army on 14 December in Kishoreganj in which two freedom fighters were killed.
Marks of the War of Liberation Mass grave 8, mass killing site 1 (Golahat), memorial monument 2 (Swadhinatar Smriti Amlan and Bashar Gate at the Nilphamari town).
Literacy rate and educational institutions Average literacy 38.8%; male 44.7%, female 32.6%. Noted educational institutions: Nilphamari Government College (1986), Kishoreganj Degree College (1972), Jaldhaka Degree College (1972), Saidpur Mohila Degree College (1981), Dimla Islami Degree College (1983), Saidpur College (1953), Masiur Rahaman College (1958), Government Mohila College (1972), Dimla Mohila College (1998), Nilphamari Government High School (1882), Saidpur Pilot Girls' High School (1904), Saidpur Pilot High School (1906), Khaga Kharibari High School (1906), Khaga Barabari Girls' High School (1907), Nautara Abeunnesa High School (1911), 'Nilphamari Government Boys' High School (1914), Tulshiram Girls' High School (1914), Dimla Rani Brinda Rani Government High School (1917), Domar Multilateral High School (1919), Magura High School (1923), Jaldhaka Pilot High School (1939), Kishoreganj Multilateral High School (1939), Nilphamari Government Girls' High School (1945), Simulbari SC High School, Golmunda Fazil Madrasa (1919).
Main sources of income Agriculture 68.51%, non-agricultural labourer 3.93%, industry 0.66%, commerce 11.77%, transport and communication 3.06%, service 5.93%, construction 0.89%, religious service 0.23%, rent and remittance 0.17% and others 4.85%.
Newspapers and periodicals Daily: Nil Kantha; weekly: Nilphamari Barta, Nilsagar, Nilsamachar, Jaldhaka, Alpana, Saidpur Barta, Janasamashsha, Manabsamashsha, Dag; 'monthly: Trino, Atanda; 'fortnightly: Diganta; defunct: Jagari (1962), Nilanchan (1972), Shalki, Jaltaranga, Pallab.
Folk culture Bhawaiya songs are mostly prevalent in the district. These songs are primarily based on traditional stories. Other notable folk songs of the district are Bishari or Manasar song, Hudumdeo song, Jari' song on the occasion of muharram, marriage song or Heroya, Bhasan Jatra, songs of Satya Pir. Various Sari song such as Nayanshari Bostam Baudia, Shital Shori Janakpala, Ambal Shori Pichhal Baudia, Paimal Shori Bhodai Member etc are very popular. The rural people arrange for a folk festival called 'Pasti' within three to six days of the birth of a baby. In addition, other folk traditions and beliefs prevalent in the district include Ashta Mangala, Bhadar Katani, Paush Katani, etc.
Important installations nilsagar Dighi (Nilphamari Sadar Upazila), Uttara EPZ, Tista Barrage (Dimla Upazila). [Abdus Sattar]
See also The upazilas under this district.
References Bangladesh Population Census 2001, Bangladesh Bureau of Statistics; Cultural survey report of Nilphamari District 2007.