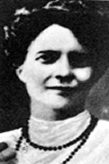 Nivedita, Sister (1867-1911) social worker and humanist. Eldest daughter of Samuel Noble, an Irish Congregational minister, her real name was Margarett Elizabeth Noble.
From a very early age she is said to have showed a spiritual and philosophical bent of mind. Educated at Halifax College, she opened her own 'Ruskin School' in Wimbledon in 1892 and led a very active social, intellectual, and literary life. Her search for 'Truth' brought her into contact with Swami vivekananda in London in 1895-96. Being convinced of the high philosophical value of the Vedanta, she accepted Vivekananda as her guru and came to Calcutta on 28 January 1898. On 25 March, Vivekananda initiated her to the Ramakrsna Order and named her Nivedita or The Dedicated.  
Nivedita committed herself to the task of improving the conditions of womenfolk in Bengal. She opened a school for girls at Calcutta in November 1898, went to the USA in July 1899, and spent a year there lecturing and raising funds for her school.
After Vivekananda's death in July 1902, Nivedita resigned from the Ramakrsna Order and shifted her mind from spiritualism to anti-colonial movement. During her stay in England from 1907 to 1909, she kept working for this goal. She returned to India in July 1909 and died on 13 October 1911 at Darjeeling. [Anil Baran Ray]