Nuruzzaman, Brigadier General ANM
Nuruzzaman, Brigadier General ANM (1938-1993) army officer, sector commander in the War of Liberation. He was born in December 1938 at village Saidabad in Raipur thana of Narsingdi district. His father Abu Ahmad was a government official and his mother was Lutfunnesa. ANM Nuruzzaman passed matriculation examination from Sunamganj High School and IA from Sylhet Murari Chand College. Nuruzzaman obtained BA (Hons) degree in History in 1959 from Dhaka University. While a student in MA class he joined graduation course in Pakistan Military Academy. He was commissioned in the Pakistan army as second lieutenant in October 1960. While serving in the Pakistan army ANM Nuruzzaman had his posting in Jessore, Dhaka and Chittagong cantonment. At that time he was promoted to the rank of Caption. He was transferred to Queta in West Pakistan in 1968.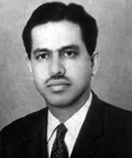 He was included as an accused in the AGARTALA CONSPIRACY CASE and was kept confined in Dhaka cantonment. Out of 35 accused Nuruzzaman was 28th in serial. With the withdrawal of Agartala Conspiracy Case in the face of intense mass movement in 1969, Nuruzzaman was released unconditionally and was reinstated in service. Nuruzzaman joined the War of liberation in 1971. With the formation of S-Force under KM Shafiullah, commander of Sector-3, Nuruzzaman was appointed as sector commander of sector-3 in September by the MUJIBNAGAR GOVERNMENT. He continued to hold the position till the end of the war.  
After the liberation of Bangladesh, Nuruzzaman continued in his service in the Bangladesh army and was promoted to the rank of Brigadier General. After 1975 his service was placed under the Ministry of Foreign Affairs, and performed diplomatic responsibilities in Australia, Philipines, Senegal, Canada and Sweden. He died on 16 March 1993 at Stockholm while working as ambassador of Bangladesh to Sweden.
ANM Nuruzzaman had great achievement in the field of games and sports. He was the Athletic Secretary of Salimullah Muslim Hall while a student of Dhaka University. At that time he was a regular player of Ispahani Sporting Club in first division football league in Dhaka. Besides, he had reputation as a tennis player.
The Government of Bangladesh awarded him the insignia of 'Bir Uttam' in recognition of his valiant contribution to the War of Liberation. The Dhaka City Corporation has renamed a road in Dhaka as Bir Uttam ANM Nuruzzaman Sarak. [ATM Zayed Hossain]