Pagla Bridge is a Mughal architectural remains which is situated about 4.5km east of Dhaka on Dhaka-Narayanganj road at Pagla. The bridge was known to be constructed in 1660 AD by Mirza Moula (Mir Jumla), Subahdar of Bengal under the Mughal Emperor Aurangzeb, on the branch river called Dholai which connected Sitalakkhya with Buriganga. mir jumla built this bridge during his assam campaign.'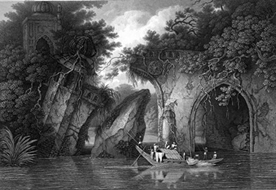 Mir Jumla's construction activities in Dhaka and its suburbs resulted in two roads, two bridges and a network of forts. One of the roads led eastward, connecting Dhaka with Narayanganj. The Pagla Bridge lies on this road. In the dilapidated bridge structure (a bazaar grown around) was found inside a temple (Mandir) area with a deity of 'Lord Shiva' placed there. According to the sebayet of the (priest) temple, the ancient structure was a part of temple Pagal-Nath (Shiva).  
French traveler Tavernier noticed this bridge in 1666 and recorded in his diary that it was a fine brick bridge on the river that ran from the North-East.
bishop heber, while visiting Dhaka from Calcutta in 1824, found the Pagla Bridge in a fairly good condition and identified it as a fine example of the richest Gothic architecture. He wrote, 'It is a very beautiful specimen of the richest Tudor Gothic, but I know not whether it is strictly to be called an Asiatic building, for the boatman said the tradition is that it was built by a Frenchman. It is, however, not true. It is not also true that the structure was a kind of Tudor Gothic one.
According to AH Dani, 'the bridge had originally three open arches, flanked at each end by a smaller closed arch, above which the road climbed in a steep chamber. On the spandrels there are prominent rosettes boldly projecting from the surface. At the four corners of the bridge stood originally octagonal hollow towers with arched openings bellow chhajjas, above which could be seen ribbed domes on cylindrical drums. The bridge is now encumbered with modern structures, but even in its ruins it retains many of its original features'. The bridge is now encumbered with modern structures, but even in its ruins it retains many of its original features. [S M Mahfuzur Rahman]