Pahartali Thana (Chittagong metropolitan) area 8.44 sq km, located in between 22°20' and 22°22' north latitudes and in between 91°45' and 91°48' east longitudes. It is bounded by sitakunda upazila on the north, halishahar and double mooring thanas on the south, khulshi thana on the east, bay of bengal on the west.
Population Total 132368; male 72305, female 60063; Muslim 115309, Hindu 16428, Buddhist 315, Christian 277 and others 37.
Water bodies Bay of Bengal.
Administration Pahartali Thana was formed in 1978.
Thana
Ward and Union
Mahalla and Mouza
Population
Density (per sq km)
Literacy rate (%)
Urban
Rural
Urban
Rural
1+3 (part)
14
132368
-
15683
67.97
-
Ward and Union
Ward and Union
Area (sq km)
Population
Literacy rate (%)
Male
Female
Ward no. 9 (part)
0.48
2882
2243
67.26
Ward no. 10
6.22
17601
13800
75.70
Ward no. 11 (part)
1.74
25292
22108
64.50
Ward no. 12 (part)
­1.62
26530
21912
64.40
Source Bangladesh Population Census 2001, Bangladesh Bureau of Statistics.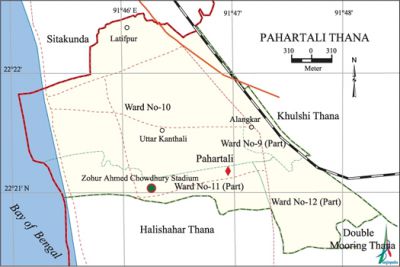 Archaeological heritage and relics Assam-Bengal Railway Building.
Historical events masterda surya sen and his compatriots looted the treasury of the Assam-Bengal Railway at Chittagong. On 23 September 1932 pritilata waddedar, one of the main associates of Masterda Surja Sen, launched a successful operation at the European Club and later on committed suicide by taking potassium cyanide to avoid arrest.
Religious institutions Mosque 4, temple 3, church 1, tomb 2. Noted religious institutions: CDA Market Mosque, Pahartali Mosque, Mahiuddin Shah Mazar, Jabbar Shah Mazar, Jelepara Shashan Mandir, Baliapara Kali Mandir, Uttar Kattali Shiva Mandir.'
Literacy rate and educational institutions Average literacy 67.97%; male 71.70%, female 61.80%. Noted educational institutions: Premier University College, Customs Training Academy, City Corporation College, Nurul Haque High School, Pahartali High School.
Cultural organisations Playground 5, cinema hall 1.
Important installations BSCIC Industrial Area, Zohur Ahmed Chowdhury Stadium (Divisional Stadium), Pahartali Railway Station.
Main sources of income Agriculture 3.23%, non-agricultural labourer 1.80%, industry 2.03%, commerce 22.02%, transport and communication 9.91%, service 38.42%, construction 3.11%, religious service 0.20%, rent and remittance 3.40% and others 15.88%.
Ownership of agricultural land Landowner 35.13%, landless 64.87%.
Noted manufactories AK Khan Jute Mills, Chittagong Textile Mills, Baghdad Carpet Factory, Victoria Jute Mills, BD Foods, BEXIMCO Food.
Hats, bazars and shopping centres Pahartali Bazar, Bangla Bazar, City Corporation Market, Abdul Ali Hat, Colonel Hat, Jola Hat, CDA Market, Honeymoon Tower.
Main exports Jute goods, processed shrimp, etc.
Access to electricity All the wards of the thana are under electrification net-work. However 90.06% of the dwelling households have access to electricity.
Sources of drinking water Tube-well 64.11%, pond 1.39%, tap 33.24% and others 1.26%.
Sanitation 77.17% of dwelling households of the upazila use sanitary latrines and 21.49% of dwelling households use non-sanitary latrines; 1.40% of households do not have latrine facilities.
NGO activities Operationally important NGOs is proshika. [Golam Kibria Bhuiyan]
References Bangladesh Population Census 2001, Bangladesh Bureau of Statistics.