Pahela Baishakh first day of the Bangla calender. Pahela Baishakh is celebrated in a festive manner in both Bangladesh and West Bengal. In Bangladesh Pahela Baishakh is a national holiday. The day falls on April 14 or 15.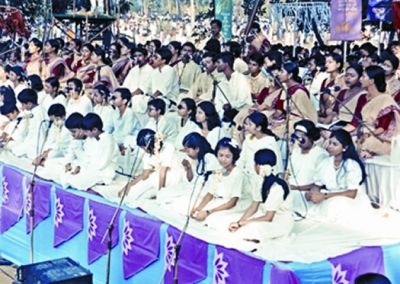 Under the Mughals, land taxes were collected according to the Arabic or Hijri calendar. However, as the Hijri calendar is a lunar calendar, the agricultural year does not coincide with that of the fiscal. As a result, farmers felt hard-pressed to pay taxes out of season. In order to streamline the land tax system, the Mughal Emperor akbar ordered a reform of the calendar. Accordingly, Fatehullah Shirazi, a renowned scholar and astronomer, formulated the Bangla year on the basis of the lunar Hijri and Bangla solar calendars. The new Fasli San (crop year) was introduced on 10/11 March 1584, but was dated from Akbar's accession to the throne in 1556. The new year subsequently became known as bangabda or Bangla year.
Celebrations of Pahela Baishakh started from Akbar's reign. It was customary to clear up all dues on the last day of Chaitra. On the next day, or the first day of the new year, landlords would entertain their tenants with sweets. The occasion was marked by fairs and other festivities. In due course the occasion became part of domestic and social life, and turned into a day of merriment.
The main event of the day was to open a halkhata or updated book of accounts. This was wholly a financial affair. In villages, towns and cities, traders and businessmen closed their old account books and opened new ones on Pahela Baishakh. They used to invite their customers to share sweets and renew their business deals with them. This tradition is still maintained, especially by jewellers and grocers.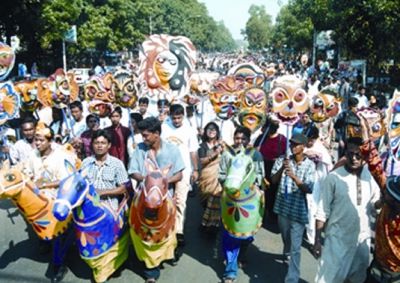 New year's festivities are closely linked to rural life in Bengal. On this day people make elaborate household cleaning and bathing. People bathe early in the morning and dress in clean and best clothes and visit public places, relatives, friends and neighbours.
Special foods are prepared to entertain guests. Baishakhi fairs are arranged in many parts of the country. Various agricultural products, traditional handicrafts, toys, cosmetics, and variety of foods and sweets are sold at these fairs. The fairs also provide entertainment, with singers and dancers staging JATRA, PALA GAN, KAVIGAN, jarigan, GAMBHIRA GAN, GAZIR GAN and alkap gan. They present folk songs as well as baul, marfati, murshidi and bhatYali songs. Narrative plays like laily-majnu, yusuf-zulekha and Radha-Krishva are staged. Among other attractions of these fairs are puppet shows and merry-go-rounds.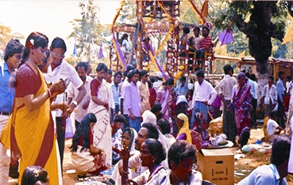 Many old festivals connected with new year's day are no longer practised. On the other hand, new festivals have been introduced. With the abolition of the zamindari system, festivals connected with the punya have disappeared. Kite flying in dhaka and bull racing in munshiganj used to be very colourful events. Among popular village games and sports include horse races, bullfights, cockfights, flying pigeons, boat racing and so on. Some Baishakhi festivals are quite regional, such as, bali or wrestling in Chittagong and gambhira song in Rajshahi.
Though agricultural in origins, the Pahela Baishakh festivities are now more marked in urban societies than in rural societies.'
The most colourful new year's day festival now takes place in Dhaka. Large numbers of people gather early in the morning under the banyan tree at Ramna Park where chhayanaut artistes open the day with Tagore's famous song, Eso he Baishakh eso eso (Come O Baishakh, come), welcoming Baishakh. A similar ceremony welcoming the new year is also held at the Institute of Fine Arts, university of dhaka.
Students and teachers of the Institute take out a colourful procession and parade round the campus. Social and cultural organisations celebrate the day with cultural programmes. Newspapers bring out special supplements. There are also special programmes on radio and television. [Sambaru Chandra Mohanta]
See also customs and traditions; folk festivals; national days.