Paikgachha Upazila (khulna district) area 411.19 sq km, located in between 22°28' and 22°43' north latitudes and in between 89°14' and 89°28' east longitudes. It is bounded by tala and dumuria upazilas on the north, koyra upazila on the south, batiaghata and dacope upazilas on the east, Tala and assasuni upazilas on the west.
Population Total 248112; male 127579, female 120533; Muslim 162248, Hindu 84892, Buddhist 831 and others 141.
Water bodies Main rivers: kobadak, shibsa, Marichap, Haria, Shengrail; Mora Bhadar Gang is notable.
Administration Paikgachha Thana was formed on 22 April, 1872 and it was turned into an upazila in 1983. Paikgachha Municipality was formed on 1 February 1998.
Upazila
Municipality
Union
Mouza
Village
Population
Density (per sq km)
Literacy rate (%)
Urban
Rural
Urban
Rural

1

10

171

212

14213

233899

603

59.65

44.98
Municipality

Area (sq km)

Ward

Mahalla

Population

Density
(per sq km)

Literacy rate (%)

2.52

9

11

14213

5640

59.65
Union
Name of union and GO code
Area (acre)
Population
Literacy rate (%)
Male
Female




Kapilmuni 50

9363

16177

15405

46.97

Garuikhali 39

10475

11704

11255

47.66

Gadaipur 33

6374

10385

9827

41.13

Chandkhali 16

10310

18880

18576

40.46

Deluti 27

13084

8206

7671

52.53

Raruli 83

6127

14340

13682

41.20

Lata 67

11702

6435

5452

54.39

Laskar 61

10561

10307

9985

45.36

Sholadana 89

12085

12021

11183

46.85

Haridhali 44

4776

11492

10916

41.76
Source Bangladesh Population Census 2001, Bangladesh Bureau of Statistics.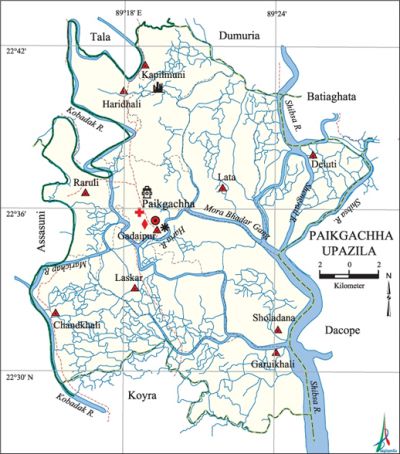 Archaeological heritage and relics Ancient remains and some dhibis (Agra and Kapilmuni).
Historical events The people of this upazila were highly influenced by the anti British movement. In 1930 the people openly defied the salt law, conducted movement responding to the call of Mahatma Gandhi. The people under the Congress leaders of the greater Khulna district had a long march to reach Kotipara of Baruli, and initiated production of salt out of water of the river Kobadak. However, they were resisted by the police, and some local people including the Congress leaders were arrested. In retaliation the anti British movement became invigorated. During the war of liberation the Pak army conducted mass killing and plundering; they also set many houses of the upazila on fire. On 17 September the razakars launched an attack on the freedom fighters at Boalia in which the razakars were defeated. But on 19 September freedom fighters Qumrul Islam, Enayet Ali Moral and Sankar Kumar Adhikari were killed in an encounter with the Pak army and razakars at Bankar. Between 6 and9 December encounters were held between the freedom fighters and the Pak army at Kapilmuni in which the main base of the razakars in the Binod Bhaban of Kapilmuni fell.
Religious institutions Mosque 162, temple 55, church 3, sacred place 1.
Literacy rate and educational institutions Average literacy 45.84%; male 53.93%, female 37.33%. Educational institutions: college 9, secondary school 53, primary school 170, 0 kindergarten 4, CSS school 4, community school' 3, madrasa 60. Noted educational institutions: Paikgachha College (1967), Kapilmuni College (1967), Shaheed Ayub Musa College (1967), Haridhali Union Secondary School, Paikgachha Government High School, Paikgachha Government Girls High School.
Newspapers and periodicals Weekly: Sotter Zhanda, Sundarban Barta (irregular).
Main sources of income Agriculture 53.14%, non-agricultural labourer 5.48%, industry 1.50%, commerce 22.93%, transport and communication 2.82%, service 4.11%, construction 1.16%, religious service 0.21%, rent and remittance 0.12% and others 8.53%.
Ownership of agricultural land Landowner 54.28%, landless 45.72%; agricultural landowner: urban 39.71% and rural 55.13%.
Main crops Paddy, jute, wheat, pulse, sesame, betel leaf, turmeric, vegetables.
Extinct or nearly extinct crops Ginger, kaun, black gram, sugarcane, mustard.
Main fruits Mango, blackberry, jackfruit, sapodilla, lemon, coconut.
Fisheries, dairies and poultries Fishery 2837, dairy 63, poultry 48.
Communication facilities Pucca road 50 km, semi-pucca road 100 km, mud road 465 km; waterway 15 nautical miles.
Extinct or nearly extinct traditional transport Palanquin, horse carriage, bullock cart.
Noted manufactories Textile mill, jute and jute made industry, salt mill, leather industry, oil mill, rice mill, handloom, fishing net factory, bakery.
Cottage industries Goldsmith, potteries, weaving, metal handicraft, bidi factory, mat and reeds, tailoring, wood work, dry fish processing, manufacture of molasses.
Hats, bazars and fairs Paikgachha Hat, Kapilmuni Hat, Agarghatar Hat and Baruni Mela are notable.
Main exports Jute, coconut, fish.
Access to electricity All the wards and unions of the upazila are under rural electrification net-work. However 12.70% of the dwelling households have access to electricity.
Sources of drinking water Tube-well 76.5%, tap 1.31%, pond 19.42% and others 2.77%. The presence of level of arsenic has been detected in 65% shallow tube-well water of the upazila.
Sanitation 43.38% (rural 42.78% and urban 53.58%) of dwelling households of the upazila use sanitary latrines and 43.25% (rural 43.24% and urban 41.71%) of intolerable dwelling households use non-sanitary latrines; 13.37% of households do not have latrine facilities.
Health centres Hospital 1, upazila health complex 1, family planning centre 10, maternity and child clinic 1, satellite clinic 6, clinic 25.
NGO activities Operationally important NGOs are brac, asa. [Ashraful Islam Goldar]
References Bangladesh Population Census 2001, Bangladesh Bureau of Statistics; Cultural survey report of Paikgachha Upazila 2007.