Pala Gan narrative folk ballad. Musical narratives about gods and religious hymns are also known as pala gan. Two well-known pala gan are Krishnakamal Goswami's Divyonmad and Govinda Adhikari's Muktalatavali. In mangalkavya or epics about deities, the stories narrated during the day are called dibapala and those narrated at night are called nishapala. Pala gan are also known as pat.
Pala gan are usually based on the stories of the puranas and folktales. Pala gan based on Sri krishna and Sri chaitanya are also called palakirtan. Some well-known Purana palakirtan are Man, Mathur, Naukavilas, Kaliyadaman and Nimaisannyas. Popular pala gan based on folktales include Chandravati, Mahuya, Maluya, Kamala, Dewan Madina, Dewan Bhabna, Rupavati, Dasyu Kenaramer Pala and Bheluya. A pala gan has an introduction and a prologue in praise of Sri Chaitanya. Its narration in prose is brief and the rest consists of metaphysical discourses, shloka and songs.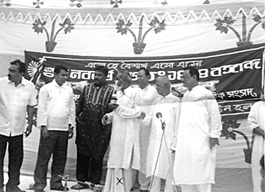 The lead singer of the pala gan is the bayati, who is supported by a group of choristers. The story is presented in the form of a dialogue. The bayati acts the roles of different characters, at times assisted by the choristers who also enact some roles. A pala turns into a jatra when the different characters appear on stage in costume. A number of jatrapala have come down from ancient times, among them Taranisenvadh Pala, Jayadhrathavadh pala, Ramjatra and Krsvajatra. Many of the stories for pala gan were inspired by the ramayana and the mahabharata and were very popular. Some other jatras, such as Chaitanyajatra, Vidyasundarjatra, Chandijatra and Bhasanjatra, are popular even today.
With the passage of time and taste, pala gan have also undergone a number of changes in form and theme. Social and even personal events have replaced legends and stories from the Puranas as in Maifal Rajar Pala, Jamal Badshar Pala and Rajvidyar Pala. Some well-known fairy tales, such as Rupvan, have also been converted into pala gan.
Pala gan originated in Mymensingh, with many of the ballads being based on real events. Charming descriptions and realistic portrayals of character are special features of these pala gan which use dialect and folk rhythms. A few of the composers whose names are known are mansur bayati (Dewana Madina), Fakir Faizu (Chhurat Jamal and Adhuya Sundari), Dvija Kanai, Chandravati, Dvija Ishan, and Sulagain. Their pala gan provide a detailed portrait of the society of their times. Many pala gan were collected by dinesh chandra sen and included in maimansingha gitika and purbabanga-gitika, published by Calcutta University. [Sambaru Chandra Mohanta]