Paltan Thana (Dhaka metropolitan) area 1.42 sq km, located in between 23°43' and 23°44' north latitudes and in between 90°24' and 90°25' east longitudes. It is bounded by motijheel thana on the south and east, sutrapur and bangshal thanas on the south and shahbagh and ramna thanas on the west.
Population 64492; male 43083, female 21409;' Muslim 54880, Hindu 8367, Buddhist 584, Christian 334 and others 327.
Administration Paltan Thana was formed on 27 June 2005 comprising part of Motijheel thana.
Thana
Ward
Mahalla and Mouza
Population
Density (per sq km)
Literacy rate (%)
Urban
Rural
Urban
Rural
1+1 (part)
13
64492
-
45417
81.74
-
Ward and Union
Ward and Union
Area (sq km)
Population
Literacy rate (%)
Male
Female
Ward No. 36
1.36
38241
19423
79.57
Ward No. 56 (part)
0.06
4842
1986
83.91
Source  Bangladesh Population Census 2001, Bangladesh Bureau of Statistics.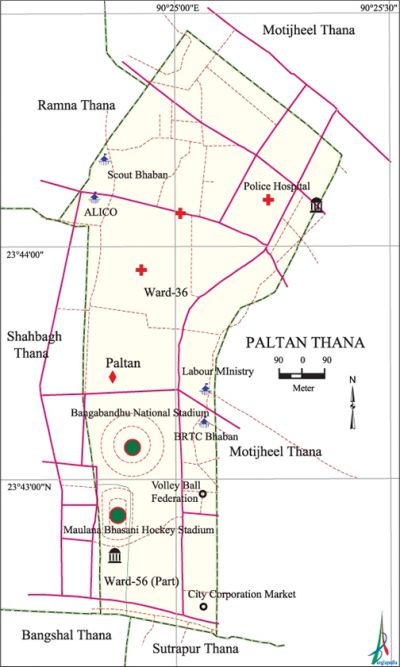 History of the War of Liberation On the mid night of 25 March 1971 the Pak army raided the Rajarbagh Police Line and killed a number of police forces.
Marks of the War of Liberation Memorial monument 1 (Rajarbagh Police Line compound)
Noted religious institutions Baitul Mukarram Mosque (1960), Bangabandhu Staff Colony Mosque, Toyenbee Circular Road Jami Mosque, Fakirapool Jami Mosque, Nawab Bari Jami Mosque, Naya Paltan Jami Mosque, PWD Jami Mosque, Mazar Mosque, Mesbah Ul Ulm Alia Madrasa and Mosque, South Shahjahanpur Mosque.
Literacy rate and educational institutions Average literacy 86.67%; male 88.58%, female 78.61%. Noted educational institutions: Dhaka City International College, T&T College, Purana Paltan Mohila Degree College, Motijheel Colony High School, Motijheel Government Boys' High School, Motijheel Government Girls' High School, Post Office High School, Motijheel Government Primary School, T & T Primary School, Fakirapool Government Primary School, National Dumb School.'
Noted cultural organisations Mahanagar Natyamancha (Theatre Stage), Wonders Club, Young Men's Club, Azad Boys Club, Jonaki Cinema Hall, Paltan Community Centre, Railway Officers' Community Centre, White House Community Centre, Free Man's Club.
Important installations General Post Office, Ramna Bhaban, Shilpa Bank Bhaban, Shrama (Labour) Bhaban, House Building and Finance Corporation, Bangladesh Road Transport Corporation, Dhaka Trade Centre, Police Head Quarters, Comrade Forhad-Moni Singha Trust Building, Scout Bhaban, Bangladesh Red Crescent Society, Office of the Bangladesh Photo Journalist Association, Office of the Bangladesh Sangbad Sangstha, Sports Federation, Jatiya Krira Parishad, Volley Ball Federation, Mohammad Ali Boxing Stadium, Bangabandhu National Stadium, Maulana Bhasani Hockey Stadium.
Main sources of income Agriculture 0.90%, non-agricultural labourer 0.55%, industry 2.12%, commerce 37.82%, service 44.51%, transport and communication 1.01%, construction 1.30%, religious service 0.19%, rent and remittance 2.61% and others 8.99%.
Ownership of agricultural land Landowner 77.99%, landless 22.01%.
Extinct or nearly extinct crops Paddy, jute, pulses, etc.
Main fruits Mango, Coconut.
Extinct or nearly extinct traditional transport Palanquin, bullock cart.
Market and Shopping Complex Bangabandhu Stadium Market, Baitul Mukarram Market, City Corporation Market, Twin Tower Concord Market, Palwell Super Market, Paltan Super Market, Eastern Plus Market, Gulistan Hall Market, Topa Complex, Mallick Complex.'
Noted manufactories Garments industry.
Cottage industries Jute goods, handicrafts.
Main exports Ready made garments.
Access to electricity All the wards of the thana are under electrification net-work. However 98.96% of the dwelling households have access to electricity.
Sources of drinking water Tube-well 3.22%, tap 96.43%, pond 0.02% and others 0.33%.
Sanitation 97.53% of dwelling households of the thana use sanitary latrines and 2.36% of dwelling households use non-sanitary latrines; 0.11% of households do not have latrine facilities.
Health centres Central Police Hospital, Bangabandhu Staff Colony Outdoor Hospital, Islami Bank Hospital, Postal Outdoor Hospital, Motijheel Diagnostic Centre, Anisha Diognostic Centre, Life Diognostic Centre, Wahida Matin Memorial Centre, Farida Clinic.
NGO activities Operationally important NGOs are brac, ACD. [Shamsun Nahar]
References Bangladesh Population Census 2001, Bangladesh Bureau of Statistics.