Panchagarh District (rangpur division) area 1404.63 sq km, located in between 26°00' and 26°38' north latitudes and in between 88°19' and 88°49' east longitudes. It is bounded by west bengal state of India on the north, dinajpur and thakurgaon districts on the south, nilphamari district on the east, West Bengal state of India on the west. Elenen Indian enclaves are located in this district. These enclaves are Puthimari, Daikhat, Shalbari, Kajladighi, Natak Toka, Nazirganj under Boda upazila;' Behula Danga, Balapara Kotbhajani, Dahala Khagrabari under Debiganj upazila; and' Gabati and Singimari under Panchagarh Sadar upazila. Panchagarh district is located on the northern extremity of Bangladesh.
Population Total 836196; male 429490, female 406706; Muslim 690893, Hindu 142350, Buddhist 2194, Christian 42 and others 717.
Water bodies Main rivers: karatoya, atrai, mahananda, tangon, Dahuk, Patharaj, Talma, Nagar, Chawai.
Administration During the British rule in India Panchagarh was a Thana under Jalpaiguri district of West Bengal. It was included in Dinajpur district at the time of the partition of India in 1947. Panchagarh Sub Division was formed in 1980 comprising Panchagarh, Boda, Debiganj, Atwari and Tentulia upazilas. The Sub Division was turned into a district in 1984.
District
Area (sq km)
Upazila
Municipality
Union
Mouza
Village
Population
Density (per sq km)
Literacy rate (%)
Urban
Rural

1404.63

5

1

43

463

843

72015

764181

595

43.9
Others Information of District

Name of Upazila

Area
(sq km)

Municipality

Union

Mouza

Village

Population

Density
(per sq km)

Literacy rate (%)

Atwari

209.92

-

6

62

64

114938

548

50.7

Tentulia

189.12

-

7

36

244

105368

557

39.0

Debiganj

309.04

-

10

108

100

185960

602

41.1

Panchagarh Sadar

347.08

1

10

83

196

229237

660

45.7

Boda

349.47

-

10

174

239

200693

574

43.1
Source Bangladesh Population Census 2001, Bangladesh Bureau of Statistics.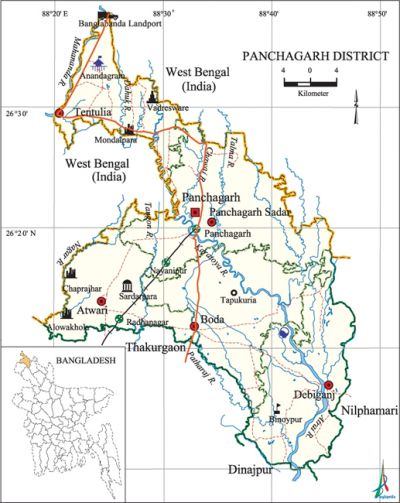 History of the War of Liberation The Pak army shot two members of the EPR dead in Panchagarh at the beginning of the war of liberation. Besides, 18 Pak soldiers were killed in an encounter with the freedom fighters. The freedom fighters of Panchagarh also destroyed a bridge near the Amarkhana camp on the Chawai River to obstruct the entry of the Pak army on the north. During the period from 19 April to 30 April 1971 the Pak army killed about fifty persons at Panchagarh town and at Mirgarh. In the last week of April 1971 the Pak army killed 11 persons at Fakirganj Hat of Atwari upazila. On 27 May, they killed 7 innocent persons including 5 ofthe same family at village Radhanagar. On 3 June the Pak army killed 5 innocent persons at village Sukhati of Atwari upazila. In July they killed 16 persons at Amarkhana of Panchagarh sadar. The Pak army also killed 11 persons at a place near Nayadighi at village Dhamor under Atwari upazila. In the last part of October the Pak army killed 27 persons of village Duhapara of this upazila. In November, the Pak army killed 18 innocent persons at Diagari under Debiganj upazila.
Marks of the War of Liberation Mass grave 2 (on the bank of the Karatoya river and Atwari thana at Mirzapur Punna-dighi); Mass killing site 1 (Char area on the eastern bank of the Karatoya adjacent to the Panchagarh town); Memorial monument 1 (Dhakka-mara in Panchagarh town).
Literacy rate and educational institutions Average literacy 43.9%; male 50.1%, female 37.3%. Educational institutions: college 25, secondary school 240, primary school 59, madrasa 60. Noted educational institutions: Makbular Rahman Government College (1965), Boda English High School (1888), Mirzapur High School at Atwari (1904), Nrepen Narayan Pilot High School (1906), Bishnu Prasad High School at Panchagarh (1944), Tentulia Pilot High Nayadighi School (1959), Panchagarh Government Primary School (1956), Primary School at Boda (1828), Goalpara Primary School at Boda (1830), Boda Model Primary School (1873), Mirgarh Primary School at Panchagarh (1918), Maynaguri Primary School at Panchagarh (1928).
Main sources of income Agriculture 70.96%, non-agricultural labourer 5.42%, industry 0.47%, commerce 9.6%, transport and communication 3.72%, service 4.83%, construction 0.73%, religious service 0.15%, rent and remittance 0.13% and others 3.99%.
Newspapers and periodicals Ei Somoi, Karatoya, Pancharupa, Uttar Asa, Aloran, Barta, Unmesh, Durjay, Pilsuj (Panchagarh), Ekhane Surja Uthe, Ganapatro, Chetana (Boda), Chayapath, Purnabha (Debiganj), Panchagarh Barta (defunct).
Folk culture The most notable folk culture of the district include Bhawaiya song, Satya Pirer song, Jonger song, Vaisnava song, Baul song, Morsia, Natua, Guri Sangeet, Kirtan, Kavigan, folk tales, folk drama, proverbs, rhymes, riddle, etc.
Tourist spots Tentulia Dakbangalow and Banglabanha Zero Point, Tentulia Picnic Corner, Dahuk Picnic Spot, Rawshanpur Anandadhara and Tea Garden, Bhadreshwar Mandir at Tentulia, Mirzapur Shahi Mosque, Imambara and Bara Aulia Tomb at Atwari, Bodeshwar Mandir, Golakdham Mandir at Boda, Bangladesh China Friendship Bridge, Chandrima Uddan at Debiganj. [Md Sherozzaman]
See also The upazilas under this district.
References Bangladesh Population Census 2001, Bangladesh Bureau of Statistics; Cultural survey report of Panchagarh District 2007; Cultural survey report of upazilas of Panchagarh District 2007.