Panchhari Upazila (khagrachhari district) area 334.11 sq km, located in between 23°12' and 23°28' north latitudes and in between 91°50' and 92°00' east longitudes. It is bounded by tripura state of India on the north, khagrachhari sadar upazila on the south, dighinala upazila on the east, matiranga upazila on the west.
Population Total '64510; male 33863, female 30647; Muslim 18875, Hindu 12475, Buddhist 236, Christian 32907 and others 17. Indigenous communities such as chakma, tripura and marma. belong to this upazila.
Water bodies Main river: Chengi.
Administration Panchhari Thana was formed on 1 October 1976 and it was turned into an upazila in 1984.
Upazila
Municipality
Union
Mouza
Village
Population
Density (per sq km)
Literacy rate (%)
Urban
Rural
Urban
Rural

-

4

7

219

24070

40440

193

46.0

27.6
Upazila Town

Area (sq km)

Mouza

Population

Density (per sq km)

Literacy rate (%)

82.88

1

24070

290

45.96
Union
Name of union and GO code
Area (acre)
Population
Literacy rate (%)
Male
Female

Chengi 19

14720

4221

4113

26.31

Panchhari 76

20480

13147

10923

45.96

Latiban 38

27520

9823

9259

26.55

Logang 57

19840

6672

6352

39.85
Source Bangladesh Population Census 2001, Bangladesh Bureau of Statistics.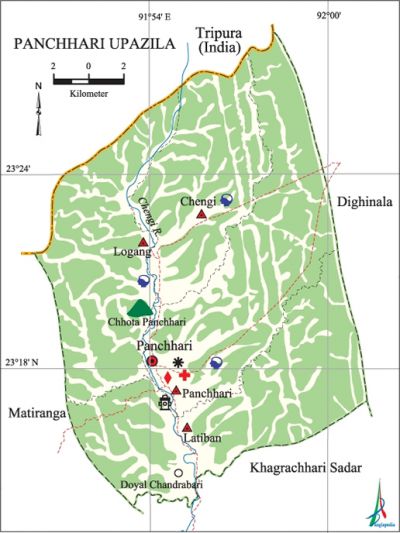 Historical events In June 1986, the members of the shanti bahini' of the Chittagong Hill Tracts killed 105 persons of Damdam, Kalanal and Chhantila areas of the upazila. On 5 March 1998 the armed cadres of the Shanti Bahini surrendered their arms and ammunitions at Dudukchhara under Logang union as per the chittagong hill tracts peace accord, 1997. The Shanti Bahini was declared disbanded on this day.
Literacy rate and educational institutions Average literacy 34.6%; male 42.8%, female 25.4%. Noted educational institutions: Panchhari College (1990), Panchhari High School and College (1981).
Cultural organisations Club 17, theatre group 1, cinema hall 1, playground 7.
Main sources of income Agriculture 64.84%, non-agricultural labourer 9.56%, industry 0.27%, commerce 8.56%, transport and communication 0.74%, service 5.86%, construction 0.57%, religious service 0.22%, rent and remittance 0.32% and others 9.06%.
Ownership of agricultural land Landowner 42.46%, landless 57.54%; agricultural landowner: urban 38.76% and rural 44.49%.'
Main crops Paddy, wheat, potato, maize, mustard, sesame, ginger, turmeric, vegetables, bamboo.
Main fruits Mango, jackfruit, litchi, banana, papaya, pineapple, sugarcane.
Fisheries, dairies and poultries Poultry 3.
Extinct or nearly extinct traditional transport Bullock cart.
Noted manufactories Ice factory.
Cottage industries Goldsmith, blacksmith, potteries, weaving, bamboo work.
Hats, bazars and fairs Hats and bazars are 3, fair 1, most noted of which are Logang Bazar, Puijagang Bazar, Ultachhari Bazar and Bijay Mela at Panchhari Sadar.
Main exports Wood, bamboo, ginger, turmeric, sesame, mustard, banana, jackfruit, pineapple.
Access to electricity All the unions of the upazila are under rural electrification net-work. However 9% of the dwelling households have access to electricity.
Sources of drinking water Tube-well 46%, tap 1.03%, pond 5.20% and others 47.77%.
Sanitation 11.90% (rural 5.59% and urban 23.37%) of dwelling households of the upazila use sanitary latrines and 78.12% (rural 83.86% and urban 67.71%) of dwelling households use non-sanitary latrines; 9.98% of households do not have latrine facilities.
Health centres Upazila health complex 1, family planning centre 3, diagnostic centre 3.
NGO activities Operationally important NGOs are brac, UNICEF. [Sanjay Kishore Das]
References Bangladesh Population Census 2001, Bangladesh Bureau of Statistics; Cultural survey report of Panchhari Upazila 2007.