Panchlaish Thana (Chittagong metropolitan) area 13.11 sq km, located in between 22°21' and 22°23' north latitudes and in between 91°48' and 91°50' east longitudes. It is bounded by bayejid bostami thana on the north, kotwali thana on the south, chandgaon thana on the east, khulshi and Bayejid Bostami thanas on the west.
Population Total 155429; male 88148, female 67281; Muslim 140150, Hindu 12629, Buddhist 285, Christian 2282 and others 83.
Administration Panchlaish Thana was formed in 1978.
Thana
Ward and Union
Mahalla and Mouza
Population
Density (per sq km)
Literacy rate (%)
Urban
Rural
Urban
Rural
1+2 (part)
13
155429
-
11856
69.49
-
Ward
Ward
Area (sq km)
Population
Literacy rate (%)
Male
Female
Ward No-07
3.16
42067
32229
66.40
Ward No-08 (part)
9.57
42011
31813
71.94
Ward No-15 (Part)
0.38
4070
3239
70.12
Source Bangladesh Population Census 2001, Bangladesh Bureau of Statistics.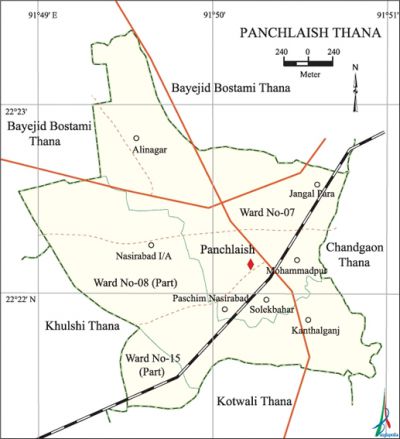 Religious institutions Mosque 20, temple 7, church 1, Buddhist Bihara 1, pagoda 1, Sikh Guruduara 1. Noted religious institutions: Wali Khan Jami Mosque, Sugandha Mosque, Khatiber Hat Jami Mosque, Society Mosque, Nazirpara Mosque, Hamja Khan Mosque.
Literacy rate and educational institutions Average literacy 69.49%; male 73.90%, female 62.80%. Educational institutions: Premier University, Forest College, Probortok Bidyapith, Sunshine Grammar School and College, Taher MKG High School, Rahmania High School, Ankur School, Amirunnessa KG School.
Important establishments War Cemetry, Government Passport Office, Bangladesh Telecommunication Company Limited (BTCL) Office, Muradpur Divisional Architectural Office, Chittagong Board of Intermediate and Secondary Education, Forest Research Institute, Soloshahar Rail Station, LGED Office, Bangladesh Agriculture Development Centre, District Police Head Office, British Council.'
Main sources of income Agriculture 0.85%,' non-agircultural labourer 1.08%, industry 6.55%, commerce 20.07%, transport and communication 7.57%, service 41.76%, construction 3.25%, religious service 0.19%, rent and remittance 3.98% and others 14.70%.
Ownership of agricultural land Landowner 42.15%, landless 57.85%.
Main crops Vegetables.
Extinct or nearly extinct crops Paddy, jute.
Main fruits Mango, blackberry, coconut.
Extinct or nearly extinct traditional transport Horse carriage, bullock cart.
Noted Manufactories Amin Textile Mills.
Cottage industries 'Blacksmith, handicrafts, bamboo works, cane works.
Hats, bazars and Shopping Complex Cattle Market at Bibir Hat, Mirzapur Bazar, Mimi Super Market, Shah Amanat Market, Soloshahar Super Market, City Corporation Market, Chittagong Shopping Complex, Siraj Shopping Complex, Al Kabir Tower and Sunmar Ocean City are notable.
Main export Ready made garments.
Access to electricity All the wards of this thana are under electrification network. However 89% dwelling households have access to electricity.
Sources of drinking water Tube-well 41.02%, pond 0.40%, tap 53.59% and others 4.99%.
Sanitation 77.54% of dwelling households of the thana use sanitary latrines and 20.57% of dwelling houses use non-sanitary latrines; 1.89% of households do not have sanitation facilities.
Health centres Shevron diagnostic centre, Mohanagar clinic. [Golam Kibria Bhuiyan]
References Bangladesh Population Census 2001, Bangladesh Bureau of Statistics.