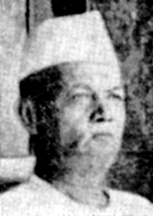 Panni, Wazed Ali Khan (1871-1936) social worker and politician. His nickname was Chand Mian and he was known as 'Atiyar chand' to the local people. He was born in 1871 and was the son of Hafez Mahmud Ali Khan Panni, the zamindar of Karatia under Tangail district. Wazed Ali received primary education at home with a tutor. He acquired profound knowledge in Arabic, Persian, Urdu and English and showed marks of erudition.
The Fatwah-i-Alamgiri was translated (into Bangla) in four volumes by poet Mohammad Naimuddin in 1892 at the patronage of Mahmud Ali and Wazed Ali took active part in this work. In 1913 the Muslim Education Conference was held at Karatia under his general supervision with Nawab salimullah (1871-1915) in the chair He founded the Hafez Mahmud Ali Khan High School and 'Rokeya Aliyah Madrasah' at Karatia to commemorate respectively his father and wife.  
Wazed Ali Khan Panni was president of Mymensingh District Congress Committee and District Khilafat Committee. He was a member of the All India Congress Committee as well. He joined the khilafat movement in 1921, was arrested on charge of violating law and sent to Mymensingh jail in December the same year.
Wazed Ali Khan Panni founded a college at Karatia in July 1926 and named it sadat college after his grand father, Sa'dat Ali Khan Panni. Wazed Ali was very bountiful and every morning helped the poor with his own hands. He used to spend 20 percent of his income for the propagation of education and doing public works. Rayats were not oppressed in his zamindari, rather he would waive land tax in times of famine and flood. Noncommunal in nature, Chand Mian made considerable contribution to promote Hindu-Muslim cordial relations. He made Waqf Rah-i-lillah (ie assigned some property in the 'Way of God') for educational institutions. He engaged about 700 Alims (Islamic scholars) to convey the spirit of Islam among the people through a Shariah department in his zamindari. In personal life Wazed Ali Khan Panni was influenced by his wife Rokeya and Sir Salimullah. Wazed Ali Khan Panni died in 1936. [Mir Shamsur Rahman]