Patenga Thana (Chittagong metropolitan) area 22.34 sq km, located in between 22°13' and 22°18' north latitudes and in between 91°46' and 91°50' east longitudes. It is bounded by bandar thana on the north, anowara thana on the south, karnafuli thana and karnafuli river on the east, bay of bengal on the west.
Population Total 140223; male 74308, female 6591; Muslim 130827, Hindu 7471, Buddhist 100, Christian 1748 and others 77.
Water bodies Bay of Bengal and Karnafuli river are notable.
Administration Patenga Thana was established on 27 May 2000 comprising part of Chittagong Bandar thana.
Thana
Ward and Union
Mahalla and Mouza
Population
Density (per sq km)
Literacy rate (%)
Urban
Rural
Urban
Rural
2+1 (part)
4
140223
-
6277
61.67
-
Ward
Ward
Area (sq km)
Population
Literacy rate (%)
Male
Female
Ward no. 39 (part)
5.08
30552
29223
66.99
Ward no. 40
9.30
26487
21743
64.80
Ward no. 41
17.26
17269
14949
53.60
Source Bangladesh Population Census 2001, Bangladesh Bureau of Statistics.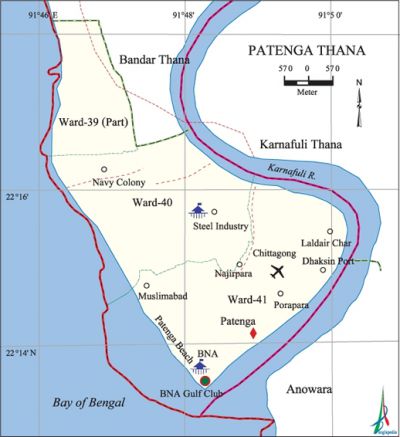 Archaeological heritage and relics Dayem Nazir Mosque (Gayebi Mosque), Mazar of Nizamuddin Aulia, Kali Bari Temple (Kathgarh).
Religious institutions Mosque 3, temple 2, tomb 3.
Literacy rate and educational institutions Average literacy 61.67%; male 65.20%, female 54.50%. Noted educational institutions: BAF Shahin School & College, Naval Academy, Patenga High School, City Corporation Mohila College, Steel Mills High School, Eastern Refinery Model High School.
Tourist spots Patenga Sea Beach.
Important installations Shah Amanat International Airport, Bangladesh Naval Academy, Sergeant Zahurul Huq Air Base, Chittagong EPZ (Export Processing Zone).
Main sources of income Agriculture 5.66%, non-agricultural labourer 6.92%, industry 0.70%, commerce 12.48%, transport and communication 4.46%, service 45.17%, construction 1.37%, religious service 0.25%, rent and remittance 4.95% and others 18.04%.
Ownership of agricultural land Landowner 36.66%, landless 63.34%.
Noted manufactories Chittagong EPZ (Chittagong Export Processing Zone), Eastern Cable, GEM Plant, Eastern Refinery, main depots of Padma, Meghna and Jamuna Oil Companies are notable.
Hats, bazars and shopping complex Steel Mill Bazar, Kathgarh Bazar, Khalifar Hat, Muslimabad Fish Market, Nizam Market are notable.
Access to electricity All the wards of the thana are under electrification net-work. However 84.40% of the dwelling households have access to electricity.
Sources of drinking water Tube-well 77.04%, pond 0.73%, tap 20.06% and others 2.17%.
Sanitation 82.75% of dwelling households of the upazila use sanitary latrines and 14.63% of dwelling households use non-sanitary latrines; 2.62% of households do not have latrine facilities.
Health centres Padma Oil Company Hospital is notable.
NGO activities Operationally important NGOs are World Vision, brac, asa. [Md. Abdul Baten]
References Bangladesh Population Census 2001, Bangladesh Bureau of Statistics.