Patial a mat making artisans group found in different parts of Bangladesh. Patials got their name from the word pati, meaning the usually coarse, dark coloured and thick mats they make from straw and bamboo or finer ones they do from cane or date palm leaves. The coarse and thicker patis are called motapati and finer ones, the shitalpati.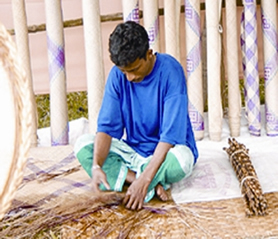 The latter are made in abound at Sylhet, Noakhali and Mymensingh areas. The plant used for mat making is the maratha (maranta dichotoma), known also as murtabet, modabet, patibet etc. in different areas of the country, is widely cultivated in districts of Sylhet, Mymensingh, Patuakhali, Noakhali and Tangail. It grows luxuriantly in marshy, low land areas. It flowers in June and July and is cut, while matured, but still green, about the middle of September. The stems are divided into sized pieces and are seasoned in water by being hung from the rafter or submerged under water.  
Patibet is also used in making ordinary mat, jainamaz (mat for prayer), wall mat etc. The images of flowers, mosques, houses, animals or birds sometimes decorate the patis with special effects and designs. Accordingly patis are given different names such as the khelaghar (sports ground), asman tara (sky star), jamin tara (star on the earth), Tajmahal etc.
In addition to mats, patials produce wall cover, handbag, hanging bag, wallet, tablemat, etc. In some cases the weaving is adorned with silver or elephant teeth. The price of a 69 mat decorated with silver or elephant teeth may range from 5 to 50 thousand Taka. Such a mate takes some two and a half year to weave.
Although chiefly found in few places patials are scattered throughout the country, wherever the nature of the soil admits of the cultivation of the Maranta. Places famous for mat making in Bangladesh are Rajnagar, Balaganj, Baralekha and Mollabazar of Sylhet, Sonagazi of Noakhali and Rampur of Barisal, Swarupkhati of Patuakhali, Salair of Faridpur and Jainpur of Mohanganj. At present, the number of patials in Bangladesh accounts for approximately ten thousand.
The occupation of patials basically runs through family lineage. Patials in Sylhet are mostly women. Consequently, the money value of a patial girl, a skilful workwoman, is considerable and her father receives the price at the time of her marriage. Patials are found among both Hindus and Muslims. Hindu patials are exclusively Vaishvavas. [Gofran Faroqi]