Poster is a popular information media for creating public awareness of a given activity. It plays a leading role in political publicity, cultural activities and in distributing dramas and movies. Its role as a means of protest is also very important. In the pre-modern age, when there was a new law, necessity to catch subversive elements of the public or there was a need to arrange a state ceremony, the rulers used to announce the intended news by beating a tom-tom or by playing a pipe. In terms of local law, sometimes stone inscriptions were used. Thus poster was used right from the Emperor Ashoka until the Pala, Sena and Muslim periods.
With the passage of time, government farmans (decrees) were also circulated on clothing or papers. In such a publicity process, poster has been a continuous media. When the East India Company seized power in 1757, it created a market in this country for the printed materials produced in London; and the Fort William College was founded in 1800. At this time, poster was used for literary practices, as for religious purposes like creating images of gods and goddesses. With the establishment of Government Art School in Kolkata in 1864, posters printed in the litho method became popular. The themes of these posters were gods and goddesses, various important personalities and mythological stories.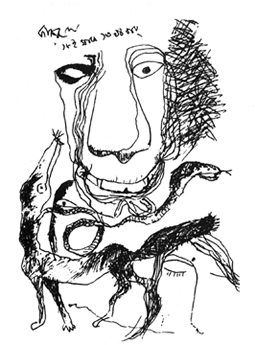 The culture of poster became widespread during the anti-colonial movement when people started pasting posters on the walls. Conversely, at bus and railway stations, people started using thin sheets of tin, instead of paper, to advertise their goods. Quack doctors and local enterprises actually publicize in this way.
Handwritten posters were used in post-1947 Pakistan when people of this region were protesting the government decision to make Urdu the state language. Many of them had to suffer incarceration because of publishing protest posters.
In the 1950s, posters were printed in engraved wood in litho press. With the emergence of one-colour offset printing press in the 1960s, the quality of posters improved. The main printing institutions that printed posters at that time were: Pakistan Cooperative Book Society Press, Regal Press, Art Press and others. From 1960 to 1980, political posters were used to make public awake of the rights and demands of the people. Some of the poster images are: 'lifting bold hands up,' 'people coming out by breaking shackles,' 'crowds of people running with flags in their hands,' 'images of world famous sculptures of protest' and others. When the Pakistan army launched attacks on the people of this country after 25 March 1971, artist Kamrul Hasan made a poster with the writing ' Annihilate these Demons together with the visage of the Pakistani ruler Yahya Khan. This poster created huge excitement and inspired people to take part in the liberation war. Artists like Nitun Kundu (1936-2007) and Pranesh Mandal played a big role during the liberation war by making inspirational posters.
The culture of poster spread in East Pakistan through the film industry. Images of the actors and actresses were painted on posters. The first full-length movie Mukh O Mukhosh (Face and Mask) was premiered in 1956. The posters that were printed for this movie were the first of their kind in East Pakistan. After Mukh O Mukhosh until 1970, 204 movies were premiered, and poster was the main media of publicity of these movies. During this time, the main painters of film posters were: Subhash Datta, Abdul Malek, Murtaza Bashir, Qayyum Chowdhury, Hashem Khan and other artists.
However, towards the end of the 1970s, printing press became widespread. Accordingly, the quality of film posters also improved. The 1980s culminated in multi-coloured and graphics-designed posters. An analysis of the development of the film and poster industry points to the social condition of this country.
In the 1980s and 1990s, there was an alternative trend of film production. Agami (1984) and Hulia (1985) represent two trends in this regard. One big characteristic of this film production is independence in the selection of subject matter and style, and producing movies ignoring commercial rules. The big names in this trend are: Tareq Masud, Murshedul Islam, Tanvir Mukammel, Manzare Hasin Murad and others. Shishir Bhattacharya, Dhali Al-mamun, Tarun Ghosh, Shaon Akhanda and others painted their pictures.
By virtue of the poster of dramas, it became very stylistic in Bangladesh. Poster painting to publicize dramas started in the 1980s. The few artists who popularized this stylistic poster are: Kamrul Hasan (1921-1988), Qayyum Chowdhury, Hashem Khan, Rafikun Nabi and others.
Poster became widespread in Bangladesh mainly through politics, film and drama. The artistic quality of the posters produced by the following bodies attracted all: Bangladesh Group Theatre Federation, Sammilita Sanskritic Jot (United Cultural Alliance), Jatiya Kavita Parisad, Bangladesh Shilpakala Academy, Abritti Sammonvay Parisad, Nobannathsab Utjapan Committee and others.
In the mass upsurge of 1969, many posters were made to bolster the movement. Few posters that marked this movement involving bloodshed were: Kamrul Hasan's Desh Aj Bixwabehayar Khappore, Kazi Hasan Habib's Bangladesh Banpora Harinir Mato Artanad Karey, Qayyum Chowdhury's Amar Bhayer Rakte Rabgano Ekushey February and others. During the anti-autocrat movement of 1990, Noor Hosen wrote 'Swairachar Nipat Jak, Ganotrantra Mukti Pak' on his body and displayed it in the street, which was termed 'human poster'.
In this regard, commercial posters are also mentionable. Various companies like Square, Bata, Uniliver, Electra, Singer, Grameen Phone, Bangla Link and similar others produce posters with the images of male and female models to advertise their products. Equally, posters are also widely used to publicize fashion show and band show events. Human photographs have been extensively used in posters and in other advertisements in Bangladesh since the 1990s.
Bangladesh Parjatan Corporation also publishes posters, which are used to attract domestic and foreign tourists. These posters carry natural scenes, archeological sites, flora and fauna and lifestyle of the people of Bangladesh.
Nowadays, posters that can make people conscious and well aware quickly are more popular. Different voluntary organizations, human rights organizations and especially the Department of Family Planning of the Government of Bangladesh publish posters to create public awareness. Posters on the following issues are also very effective: acid violence, drug addiction, the dowry system, family planning, using oral saline, forestation project, fisheries and education for all. Posters published by the UNICEF to encourage children's inoculation are also very beautiful. A poster published by Sandhani in the 1980s still shakes people's conscience. The slogan of the poster was: Andhojane dao alo (give light to the blind). [Babul Biswas]