Puppet Theatre universal form of popular dramatic entertainment using puppets. One or more people manipulate the puppets, sometimes appearing in public and sometimes working unseen behind the stage. Puppets act in a story or legend before the audience just like human actors do. They are clad in dresses suitable for the roles they play.
Puppets are generally of four types: wire puppets, stick puppets, tressed puppets and shadow puppets. Wire puppets are generally played with fine wires or strings while stick puppets are moved with sticks. When two or more puppets are tied and moved together, they are called tressed puppets (beni putul).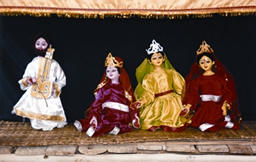 Puppetry is an ancient and ubiquitous form of entertainment. The medieval Italian Pulcinello, manoeuvred by strings, travelled to France and became known as Paulcinelle. In England, it turned into Punch, a glove puppet, followed by its versions in Russia, Japan and Brazil. There are both ancient and modern forms of puppets in Egypt, China, Korea, the Philippines, Myanmar, Vietnam, Malaysia, Indonesia and Sri Lanka. In west bengal there are several institutions such as the Calcutta Puppet Theatre, People's Theatre, Dolls' House and Burdwan Puppet Theatre where regular puppet shows are held and research on puppetry is carried out.
The tradition of puppetry in Bangladesh dates back at least a thousand years. Three types of puppets are common in Bangladesh: wire puppets, stick puppets and tressed puppets, all made of xola and light wood. They are adorned with cloth and ornaments. brahmanbaria was famous in the past for its puppets and puppet shows.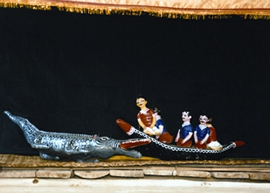 A skilled puppeteer can manipulate up to three puppets at a time, making them move or dance. Traditional puppet shows were generally about radha and krishna, the abduction of Sita, or other religious stories from the ramayana and the mahabharata etc. Puppet shows may be about social themes and domestic life: conjugal life, love and bereavement, strife between in-laws etc. Nowadays, puppet shows are also used to awaken social awareness and may focus on education, family planning etc.
The artist Mustafa Monwar has played a significant role in the development and modernisation of puppetry in Bangladesh. He runs a centre called the Educational Puppet Development Centre (EPDC) which trains people in puppetry. The EPDC arranges puppet shows taking elements from folk ballads, fairy tales, and folk songs. Some of the shows are Pandit O Majhi (The Scholar and the Boatman), Bahurupi (The Clown), Prabad Bakya (Proverbs), Agachha (weeds), Lobh (Greed), Lichuchor (The Litchi Thief), Chhota Meye O Prajapati (The Little Girl and the Butterfly), Khuki O Kathbedali (The Little Girl and the Squirrel), Momer Putul (The Wax Doll), Shantir Payra (Doves of Peace), Gadha O Kachuripana (The Donkey and the Hyacinth) etc.
Bangladesh took part in the International Puppet/Figure Theatre Festival in Norway in 1997 and in the International Exhibition and Convention held in Kolkata in December 1998. Puppet shows are now held at many other places including the bangladesh shilpakala academy auditorium. [Zillur Rahman John and Shahida Khatun]