Rahim, Sir Abdur (1867-1952) Jurist, scholar and politician. Born in a zamindar family of Midnapur district, Abdur Rahim received his early education in Midnapur and then joined presidency college, Calcutta. On the completion of his post-graduate studies in English Literature he went to London and joined the Middle Temple for the Bar-at-Law degree and was called to the Bar in 1890. Abdur Rahim quickly established himself as a lawyer in Muslim and Criminal Law. He was appointed as Deputy Legal Remembrancer and later held the post of the Presidency Magistrate for three years (1900-1903) before he resumed his High Court practice in 1904.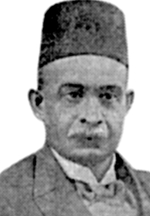 Abdur Rahim made extensive studies on Muslim jurisprudence. He studid the original texts of Sharia Law and became an acknowledged authority on Muslim Law and also on Criminal Law. His erudition in Muslim jurisprudence earned him the prestigious position of the Tagore Law Lecturer at calcutta university. The depth and originality of his lectures, which were later published in a book form in 1911, made him a notable figure among scholarly and juristic society. He was made a Judge of the Madras High Court in 1908. Justice Rahim was the officiating Chief Justice of the Madras High Court once in 1916 and again in 1919. While in Madras he was for many years a Senate and Syndicate member of Madras University.  
He was invited to deliver the Convocation Address at Madras University (1910) of which he was a Fellow. He gave the Convocation Address at the Mysore University in 1919. He was a trustee of Aligarh University and a patron of the Madras Muhammadan Educational Association. Rahim was knighted in 1919 and honoured again with KCSI in 1925.
Abdur Rahim resigned from the office of Chief Justice of Madras High court in 1920 and joined the Bengal government as a member of the Governor's Executive Council (1920-25). From 1925 onward Rahim became increasingly involved in Muslim nationalist politics. But despite being a Muslim leader of great learning and authority he was not able to make his public life a source of inspiration for activists of the Muslim community. In the faction-ridden politics of the 1920s and early '30s one may notice several political groupings amidst the Muslim leadership. Every leader seemed to have floated one or another political group and the main purpose appeared to be to form ministries. Abdur Rahim too led a group called bengal muslim party. In the Council elections of 1926 his group emerged as the strongest electoral faction. Rahim was thus made a minister in 1927 but he had to resign within a couple of days, because he failed to enlist majority support in the Council in his favour. He organised a confederate party, Muslim United Party in 1928, taking all Muslim groups into its fold. Its object was to take the question of Muslim representation to the simon commission unitedly. Rahim also organised a peasant party called nikhil banga praja samiti, the precursor of the praja party in 1929, and became its first president. He retired from public life in 1934 when he was made President of the Indian Legislative Assembly. [Sirajul Islam]