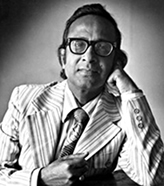 Rahman, Hasan Hafizur (1932-1983) poet, journalist and critic, was born on 14 July 1932 at his maternal uncle's residence. His ancestral home was in the village of Kulkandi in islampur upazila under jamalpur district. He completed the BA and MA in Bangla Language and Literature in 1951 and 1955 respectively from the university of dhaka.
Hasan Hafizur Rahman's began his career in 1952 as assistant editor of the weekly begum. Subsequently he served the saogat (1953), Ittehad (1955-57), Daily Pakistan (1965) and, after liberation, Dainik Bangla. In January 1972 he was elected president of the editorial board of the Dainik Bangla. From 1957-64 he was professor of Bangla Language and Literature at jagannath college.
In 1973 he was appointed Press Councillor at the Embassy of Bangladesh in Moscow, where, at the invitation of the Soviet Writers' Association, he took part in the Conference of Afro-Asian Writers' Association held in Alma Atta. Returning to Bangladesh, December in 1974, he joined the Ministry of Establishment. In 1978 he was appointed Director of the History of the Liberation War Project under the Ministry of Information. Hasan Hafizur Rahman
Hasan Hafizur Rahman started writing while still a student. In 1946, while studying at school, his first short story, 'Ashrubheja Path Chalte', was published in the Saogat. In 1949 the Sonar Bangla published his first poem. It was at this time that he became associated with the Dhaka Progressive Writers and Artists Association. He actively took part in the language movement of 1952, inspired by which he wrote his famous poem 'Amar Ekushey'. In 1953 the first compilation work on the Language Movement, Ekushey February, was published under his editorship.
Hasan Hafizur Rahman was involved with different socio-cultural movements. In 1954 he was elected literary secretary of Dhaka University Central Students' Union (DUCSU) and edited Spectra, the monthly magazine of DUCSU. That year he also became president of the drama circle and wrote two insightful essays: 'Kavitar Bisaybastu' and 'Adhunik Kavitar Laksman'. He was the general secretary of the East Pakistan Cultural Conference held at Comilla in 1952 and played an important part in establishing the pakistan sahitya sangsad. He was an associate of sikander abu zafar in editing the literary journal samakal (1957). In 1964 he was elected president of sangskriti sangsad. He protested against the reformation of the Bangla alphabet and spelling as well as against the ban on the broadcast of Tagore's songs over radio and television.
Hasan Hafizur Rahman had support to communist ideas. He was also committed to Bangali nationalism and culture. In 1971 he took active part in the war of liberation. He was a socially conscious writer, and his writings reflect the expectations, sufferings and protests of the general masses. He was one of the founders of the modern poetic movement in East Pakistan.
Perhaps the most important contribution of Hasan Hafizur Rahman was his editorship of the documents of the War of Liberation, published as Bangladesher Svadhinatayuddha: Dalilpatra (1982-83), in 16 volumes. Among his significant writings are Bimukh Prantar (1963), Arta Shabdabali (1968), Yakhan Udyat Sabgin (1972), Bajre Chera Andhar Amar (1976), Shokarta Tarbari (1982), Amar Bhetarer Bagh (1983), Adhunik Kavi O Kavita (1965), Mulyabodher Janye (1970), Sahitya Prasabga (1973), Simanta Shibire (1967), Daksiner Janala (1974), Pratibimva (1976), Aro Duti Mrtyu (1970). He also translated Homer's Odyssey into Bangla and jointly edited Uttar Banger Meyeli Git (1962).
Hasan Hafizur Rahman received several awards for his literary achievements, among them the Pakistan Lekhak Sangha Award, the Adamjee Prize (1967), the Bangla Academy Award (1971), the Sufi Motahar Hosen Memorial Award (1976), the Alakta Sahitya Award (1981), the Saogat Literary Award and Nasiruddin Gold Medal (1982), and Ekushey Padak (1984, posthumous). Hasan Hafizur Rahman died on 1 April 1983 at Moscow Central Clinical Hospital. [Sambaru Chandra Mohanta]