Rahman, Justice Latifur jurist, head of the caretaker government of Bangladesh in 2001. He was born in Jessore on 1 March 1936. His father Khan Bahadur Lutfar Rahman was a lawyer and politician. After completing his school education at the Jessore Zila School and the college education at the Dhaka College, Latifur Rahman obtained BA Honours (1955) and MA (1956) in English Literature from the University of Dhaka. Subsequently, he completed LLB from the same university.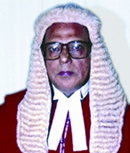 At the beginning of his professional career, Latifur Rahman served as a Lecturer at the Quaid-e-Azam College (now Shaheed Suhrawardy College) and Jagannath College.
He started his profession as a lawyer at the Dhaka High Court after being enlisted at the bar in 1960. In 1979, Latifur Rahman was appointed additional judge at the High Court Division of the Supreme Court, where he became a permanent judge in 1981.
Latifur Rahman joined as a judge at the Appellate Division of the Supreme Court on 15 January 1991 and was elevated to Chief Justice on 1 January 2001. On 28 February 2001, he retired from service.
According to the constitutional provision for caretaker government, Justice Latifur Rahman, as the last retiring Chief Justice, took oath as the chief adviser of the caretaker government of Bangladesh on 15 July 2001. The elections of the eighth Jatiya Sangsad were held under him on 1 October 2001, and he retired on 10 October when the elected government took oath of office.
Latifur Rahman described the experience of the 87 days of his administration as the head of the government in a book Tattabadhayak Sarkarer Dinguli O Amar Katha (The Days of the Caretaker Government and My Account). [Helal Uddin Ahmed]