Rahman, Justice Muhammad Habibur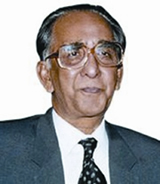 Rahman, Justice Muhammad Habibur (1928-2014) educationist, lawyer and jurist. He was born on 3 December 1928 at village Dayarampur in Jangipur subdivision of Murshidabad district in West Bengal. His father Moulvi Jahiruddin Biswas was a lawyer, and his mother was Gul Habiba. Habibur Rahman passed matriculation examination in 1945 from Jangipur High School and IA examination in 1947 from Presidency College in Kolkata. He obtained BA (Hons) in History in 1950, MA in 1951 and got LLB degree in 1955 from Dhaka University. Habibur Rahman obtained BA (Hons) and MA degree in Modern History in 1958 and 1962 respectively from Worcester College of Oxford University. He completed Bar at Law from the Lincon's Inn in 1959.
Habibur Rahman began his career as a Lecturer in History in Dhaka University in 1952. Later he joined Rajshahi University where he subsequently held the office of Dean of the Faculty of Law (1961) and of Reader in History (1962-64). Habibur Rahman changed his profession in 1964 and joined the Dhaka High Court bar. In his legal career he held the offices of Assistant Advocate General (1969), vice president of High Court Bar Association (1972) and member of Bangladesh Bar Council (1972).
Habibur Rahman was appointed a judge of the High Court in 1976, and judge of the Appellate Division of the Supreme Court in 1985. He was the Acting Chief Justice in 1990-91 and was made chief justice of Bangladesh in 1995. His juristic competence is demonstrated in his opinions and interpretations as pronounced in many of the Bangladesh Supreme Court's decisions concerning vital issues, such as, admiralty jurisdiction, amendment of the Constitution, citizenship, habeas corpus, administrative tribunals and court jurisdictions.
Justice Habibur Rahman participated in a number of international conferences of lawyers and jurists including the Conference of Chief Justices of Asia-Pacific in Perth, Australia (1991), Fourth Commonwealth Chief Justices Conference in Abuza, Nigeria (1992), First saarc Chief Justices Conference in Kathmandu, Nepal (1995), conferences and seminars on law and human rights held at Saopaolo (Brazil), Kualalampur (Malayasia), Berlington (USA), Athens (France), Georgia (USA), Oxford (UK) and New Delhi (India).
Habibur Rahman retired from service as Chief Justice of Bangladesh in 1995. As per constitutional provision, he as the last retiring Chief Justice took oath as Chief Advisor of the caretaker government for conducting the elections of the jatiya sangsad in 1996. As Chief Adviser it was for him to guide the nation into the future by taking the right path a mid the confusion for the crossroads. He did the job marvelously well despite the threats and dangers lurking in the bushes. Justice Rahman did what was expected of him he stood firm in his resolve to preserve democracy, and democracy was saved through general election held in June 1996.
A thoughtful writer, Habibur Rahman had interest in varied subjects. The spirit of Renaissance was in him, and was all through in search of knowledge through its manifold dimensions. His research, covering as if did literature, polities, religion and society, demonstrated the larger than life intellectual inhabiting his being. A leading intellectual voice, Habibur Rahman explored Rabindranath through the many dimensions. He was a poet and aesthete, devoted to religions, but non-communal. Some of his literary and other noted publications are as follows: Law of Requisition (1966), Jatha Shabda (1974), Rabindra Prabandhey Sanjna O Parthakya Bichar (1983), Matri-bhashar Svapakshey Rabindranath (1983), Qoran-Sutra (1984), Gangariddhi Thekey Bangladesh (1985), Bachan O Prabachan (1985), Rabindra-Rachanar Rabindra-byakhya (1986), Rabindra-Bakyey Art Sangeet O Sahitya (1986), Amara ki Jabo-na Tader Kachhey Jara Shudhu Banglai Katha Baley (1996), Bangladesh Dirghajeebi Hoke (1996), Tera-i Bhadra Sheeter Janma (1996), Kalam Ekhon Nagaler Bairey (1996), Ayner Shasan O Bichar Bibhager Svadhinata (1997), Bangladesh Sangbidhaner Shabda O Khanda-bakya (1997), Bangladesher Tarikh (1998), Maner Agachha Puriye (1998), Bang Banga Bangala Bangladesh (1999), Sarkar Sangbidhan O Adhikar (1999), Kavi Tumi Naha Gurudev (1999), Ekushey February Sakal Bhashar Katha Koi (1999), Mausumi Bhabna (1999), Mitrakshar (2000), Jago Otho Darao Bangladesh (2000), Nirbachita Prabandha (2000), Qoran Sharifer Saral Banganubad (2000), Chaoa-Paoa O Na-Paoar Hiseb (2001), Swapna Duhsapna O Bobar Swapna (2002), Rabindra-Rachanae Ayni Bhabna (2002), Bishanna Bisoy O Bangladesh (2003), Prathamey Matribhasha Parabhasha Parey (2004), Rabindranath O Sabhyatar Sankat (2004), Safdeler Mahara (2004), Unnata Mama Shir (2005), Ek Bharatiya Bangalir Atma-Samalochana (2005), Daimukti (2005), Kato Bhagye Bangladesh, Kothai Dariye Bangladesh (2006), Shiksharthi O Shiksha-datader Jai Hoke (2007), Jatidharma-barna-Nari-Purush Nirbisheshey (2007), Banglar Surya Az Ar Asta Jai Na (2007), Manusher Janya Khancha Banio Na (2007), Swadhinatar Daibhar (2007), Rajar Chithir Pratikshai (2007), Udayer Pathey Amader Bhabna (2008), Zar Za Dharma (2008), Bangladesher Tarikh, II (2008), Desher Bhalo-Manda (2008), Bazar O Adrishya Hasta (2008), Ek-mutho Samudrer Garjan (2008), Srijansheel Ganatantra (2008), Line-chyuta Rail-garhi (2008), Gangariddhi (2008), Subhashita (2009), Rajnaitik Kavita (2010), Itihasa Bisayak (2010), Rabindranather Swadesh-chinta (2010), Tora Keman Karey Parli (2010), Tao ti ching-er Anubad (2010), Ayn-Adhikar O Birodh O Mimamsa (2010), Nirbachita China Kavita (2010), Ayn-Shabdakosh (2007), On Rights and Remedies, The Road Map to Peace but Nowhere to go.
Justice Rahman was awarded bangla academy Prize for Literature in 1984, Ekushey Padak in 2007 and a number of awards from other concerns. He was a Fellow of the asiatic society of bangladesh; Fellow of the Bangla Academy; Honorary Bencher, Lincoln's Inn; and Honorary Fellow, Worcester College of Oxford University.
Justice Habibur Rahman died in Dhaka on 11 January 2014. [Muazzam Hussain Khan]