Rahman, Mashiur (1920-1971) lawyer, politician, martyr in the War of Liberation. He was born in 1920 at village Singhajhuli in Chaugachha upazila of Jessore district. He passed Matriculation examination in 1938 from Jessore Zilla School, IA and BA from Calcutta Islamia College, and obtained BL degree from Calcutta University in 1944.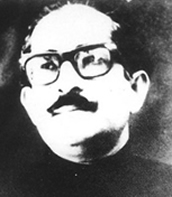 Mashiur Rahman joined Jessore district bar in 1944 and was involved in Muslim League politics. He was elected chairman of Jessore Zila Board in 1948. But in the same year he resigned from the chairmanship of Zila Board in protest of the state language policy of the Muslim League. In 1949 he joined the Awami Muslim League and had a vital role in organising the party in Jessore. He was elected as general secretary of the Jessore district unit of Awami Muslim League in 1952. Mashiur Rahman led the language movement in Jessore from 1948 to 1952. He was arrested for his active role in the language movement. He was elected a member of the East Bengal Legislative Assembly from Jessore in 1954 as a candidate of the united front. Mashiur Rahman
He was a member of the Awami League working committee in 1953-1956. He was a minister in the cabinet of Ataur Rahman Khan in 1956 and was in charge of the Ministry of Publicity, Parliamentary Affairs, Revenue and Local Government. He was arrested after the promulgation of martial law in 1958.
Mashiur Rahman had significant role in revitalizing the Awami League in 1964. In 1967 he was elected vice president of the Pro-PDM Awami League. But during the anti-Ayub movement in 1968 he came back to the main stream Awami League. He gave legal support in favour of bangabandhu sheikh mujibur rahman in agartala conspiracy case. He was elected a member of the National Assembly in 1970 from Jessore-3 constituency as a candidate of Awami League. In March 1971, he gave lead to the non-cooperation movement of Bangabandhu in Jessore.
On the night of 25 March, a group of Pak army arrested Mashuir Rahman and took him to Jessore cantonment. Mashiur Rahman was killed by the Pak army in the cantonment on 25 April 1971.
Bangabandhu Sheikh Mujibur Rahman unveiled a memorial in honour of Mashiur Rahman in Jessore Municipal Park on 26 December 1972. The Jessore Airport Road was renamed as Shaheed Mashiur Rahman Sarak. [Abu Md. Delwar Hossain]