Rajnagar Upazila (maulvibazar district) area 338.15 sq km, located in between 24°26' and 24°39' north latitudes and in between 91°44' and 91°58' east longitudes. It is bounded by balaganj and fenchuganj upazilas on the north, kamalganj upazila on the south, kulaura upazila on the east, maulvibazar sadar upazila on the west.
Population Total 193303; male 97929, female 95374; Muslim 147309, Hindu 45605, Buddhist 167, Christian 30 and others 192. Indigenous community such as khasia belongs to this upazila.
Water bodies Main rivers: manu, Dhalai, kushiyara; Kawadighi Haor; Farakka and Pukhuri Beels are notable.
Administration Rajnagar Thana was formed in 1922 and it was turned into an upazila in 1984.
Upazila
Municipality
Union
Mouza
Village
Population
Density (per sq km)
Literacy rate (%)
Urban
Rural
Urban
Rural

-

8

142

259

11567

181736

572

41.9

35.8
Upazila Town

Area (sq km)

Mouza

Population

Density (per sq km)

Literacy rate (%)

8.15

4

11567

1419

41.9
Union
Name of union and GO code
Area (acre)
Population
Literacy rate (%)
Male
Female

Uttarbhag 84

19811

15841

14914

35.55

Kamar Chak 21

9052

10577

10873

33.08

Tengra 73

9337

12087

11691

31.63

Panchgaon 52

7178

9798

9619

35.46

Fatehpur 10

11426

12423

12288

35.70

Mansurnagar 31

4974

11209

11123

39.27

Munshi Bazar 42

8535

13781

13062

35.30

Rajnagar 63

5882

12213

11804

43.13
Source Bangladesh Population Census 2001, Bangladesh Bureau of Statistics.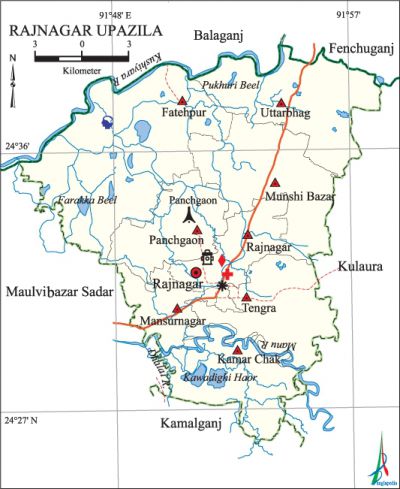 Archaeological heritage and relics Copperplate of c. 930 AD at village Paschimbagh, Tengu Bazar Mandir, Canon 'Jahankosa' made by Janardhan Karmakar.
History of the War of Liberation In 1971 the Pak army conducted mass killing and heavy plundering in the upazila; they also set many houses on fire. The Pak army killed 15 innocent persons of Dhar Bari and Shahaji Bari under Munshi Bazar union. On 14 May they also conducted mass killing and set many houses of villages Uttarbhag, Chatura, Pancheswar and Rajnagar on fire. Eleven freedom fighters were killed in a frontal encounter with the Pak army. On 4 December, a group of 30 freedom fighters took control of a Pak army camp located at Udna Tea Garden. Rajnagar was liberated on 6 December.
Marks of the War of Liberation Mass grave 2 (Panchgaon, Munshi Bazar); memorial monument 1 (Munshi Bazar).
Religious institutions Mosque 310, temple 51, tomb 10, sacred place 2. Noted religious institutions: Panchgaon Durga Mandir, Panishail Akhra and Mandir, Rajar Mandir at Tengra.
Literacy rate and educational institutions Average literacy 36.2%; male 38.2%, female 34.1%. Educational institutions: college 2, secondary school 13, primary school 142, satellite school 15, madrasa 18. Noted educational institutions: Rajnagar Degree College (1973), Moulana Mufazzal Hossain Mohila College (1994), Rajnagar Porteous High School (1893), Meherunnessa Girls' High School (1965), Panchgaon High School, Kandigaon High School, Janata High School, Eka Santosh Government Primary School (1880), Ghargaon Hedaytul Islam Title Madrasa (1926), Rajnagar DS Fazil Madrasa (1973).
Newspapers and periodicals Weekly: Rajkantha; irregular and defunct: Shilpatari, Mukti Sangram, Manukuler Kagaz, Dip Shikha, Rajnagar Barta, Maral.
Cultural organisations Library 3, club 50, jatra party 4, playground 6.
Tourist spots Parbatpur Tea Garden, Karimpur Tea Garden, Lohauni Tea Garden, Ita Tea Garden, Kamla Rani Dighi and Dewan Dighi.
Main sources of income Agriculture 51.61%, non-agricultural labourer 14.07%, commerce 8.16%, transport and communication 1.55%, service 3.55%, construction 1.23%, religious service 0.34%, rent and remittance 5.47% and others 14.02%.
Ownership of agricultural land Landowner 45.62%, landless 54.38%; agricultural landowner: urban 44.04% and rural 45.72%.'
Main crops Paddy, tea, potato, mustard, ginger, turmeric, vegetables.
Extinct or nearly extinct crops Sesame, sweet potato, arahar.
Main fruits Mango, jackfruit, pineapple, blackberry, banana, papaya.
Fisheries, dairies and poultries Fishery 11, dairy 25, poultry 32.
Communication facilities Pucca road 117.68 km, mud road 308.68 km; waterway 11 nautical miles.
Extinct or nearly extinct traditional transport Palanquin, horse carriage, bullock cart.
Noted manufactories Rice mill, pulse mill, Tea processing factory, rubber factory, Attar (perfume) factory.
Cottage industries Goldsmith, blacksmith, potteries, weaving, shitalpati, bamboo work, cane work.
Hats, bazars and fairs Hats and bazars are 32, fairs 5, most noted of which are Tengra Bazar, Munshi Bazar, Rajnagar Bazar, Haripasha Bazar, Sarkar Bazar, Azad Bazar, Rajkrishnapur Bazar, Bhangar Hat, Bager Mela, Baruni Mela and Muharram Mela at Naiyatila.
Main exports Tea, pineapple, shitalpati, attar.
Access to electricity All the unions of the upazila are under rural electrification net-work. However 13.57% of the dwelling households have access to electricity.
Sources of drinking water Tube-well 66.11%, tap 0.80%, pond 19.71% and others 13.38%.
Sanitation 27.65% (rural 26.69% and urban 42.61%) of dwelling households of the upazila use sanitary latrines and 53.69% (rural 54.10% and urban 47.36%) of dwelling households use non-sanitary latrines; 18.66% of households do not have latrine facilities.
Health centres Upazila health centre 1, family planning and satellite centre 1, rural health centre 2.
NGO activities Operationally important NGOs are brac, asa, BUP, HEED Bangladesh. [Shah Md. Muizur Rahman]
References Bangladesh Population Census 2001, Bangladesh Bureau of Statistics; Cultural survey report of Rajnagar Upazila 2007.