Ramakrishna Mission, Bangladesh
Ramakrishna Mission, Bangladesh branch of the Ramakrishna Mission to propagate the teachings of sri ramakrishna (1836-1886).
Ramakrishna believed that all religions are true and that each person can approach God in one's own way. He stressed that human beings are essentially divine and that it is better to make positive efforts for progress than to grieve over sin and moral lapses. swami vivekananda (1863-1902), a leading disciple of Sri Ramakrishna, established Ramakrishna Mission on 1 May 1897 at Belur Math, Howrah, India, to preach Ramakrishna's philosophy.
The Ramakrishna Mission is not just a social service organization. It is essentially a spiritual organization with a social philosophy and social commitment. All its activities are carried on in the spirit of worship as, according to Ramakrishna, it is not just compassion that is important but rather service to human beings who are just the manifestation of God.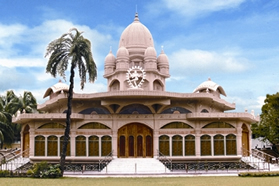 The Ramakrishna Mission, Dhaka, which was set up in 1899, is one of 141 branches of the Ramakrishna Order. Like the other branches, it is devoted to the twin ideals of contemplative life and social service. There is a beautiful temple dedicated to Kali as well as a well-equipped library for all categories of readers, including research scholars. Ramakrishna Mission Temple, Dhaka
Other centres in Bangladesh include those at barisal (1904), Narayanganj (1909), Baliati at Manikganj (1910), sylhet (1916), Faridpur (1921), Habiganj (1921), Mymensingh (1922), Dinajpur (1923), and Bagerhat (1926). It also has a medical section which was started in 1913, with the help of Nawab Sir khwaja salimullah.
The Ramakrishna Mission is open to people of all faiths. It observes Hindu religious festivals such as durga puja, kali puja, and saraswati Puja as well as important Muslim, Buddhist and Christian festivals. All Ramakrishna Mission centres arrange seminars and discussions on various topics of interest and invite scholars from different fields and belonging to different faiths for the purpose. A week-long festival is organised by the Dhaka centre on the life and teachings of Sri Ramakrishna on the occasion of his birth anniversary.
The philanthropic activities of Ramakrishna Mission depend entirely on donations from the government as well as the general public. [Swami Aksharananda]