Ramakrishna Mission, Kolkata
Ramakrishna Mission, Kolkata a religious and humanitarian service organisation founded by swami vivekananda. He inaugurated the launching ceremony of the organisation on 1 May 1897 in a gathering of the devotees and admirers of Sri Ramakrishna. Its headquarters was set up at Belur Matha on the other bank of the Ganges. At present Ramakrishna Mission is rendering services to the humanity through 171 branches in different countries. The Mission has 17 branches in Kolkata including the headquarters unit.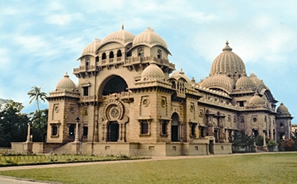 As a religious organisation, Ramakrishna Mission renders social welfare and benevolent services to the people as a matter of spiritual discipline with the motto: Service to Humanity is service to God. The activities of Ramakrishna Mission are fully religious, spiritual, service oriented and non-political. The motto of Ramakrishna Math and Mission is to achieve self salvation and to bring welfare of the world through sacrifice and service. The significant service areas of the Mission are Medicare service, Literacy programme for the youth and their participation, Women development, Rural development and Tribal welfare, Relief and Rehabilitation programme, Mass awareness and literacy programme through spiritual and cultural functions. The Mission considers the services as the way of life, which have some distinctive features of selflessness, love, liberty in thinking, fraternity, teamwork and team spirit, truthfulness and transparency, services and commitment for the society having no political connection. Ramakrishna Mission is purely a monastic organisation. Its inmates are fully dedicated and free from all worldly interest like monks. Swami Vivekananda designed and built up the magnificent temple of Sri Ramakrishna at Belur Matha with cross cultural and religious features, and a museum which emerged as a place of special attraction to people from home and abroad.
The Vivekananda University was set up beside the Ramakrishna Mission headquarters. Its academic activities are being implemented through various faculties to enhance the capacity building level of the disabled, to achieve integrated rural development with special focus on the development of tribal people and to study Indian heritage and culture specifically spiritualism, ethics, disaster management, relief and rehabilitation activities.
The special centres of Ramakrishna Mission located in Kolkata are: (1) Ramakrishna Mission Institute of Culture Library with a collection of 200,000 books, International Cultural Research Centre and a Language School having 70 thousand students learning 17 languages; (2) The Ramakrishna Mission Sheba Pratisthan (former child organisation); a 550-bed general hospital with a nursing training college, a post-graduate medical college and research institute and a public health services project; (3) The Ramakrishna Mission Ashram, Narendrapur Residential Degree College, a library with 77,446 books, a Blind Boys Academy and a Braille Press, a monthly Bangla Journal (Samaj Shiksha), an integrated institute for rural development and social welfare (Loka Shiksha Parisad) (4) A publishing centre named Udbodhan Kendra publishing a monthly journal in Bengali titled Udbadhan; (5) Advaita Ashram Publication Centre, publishing English books and an English monthly journal including an English monthly (Prabuddha Bharata from 1896); (6) The old people's home in the Barisha centre; (7) A degree college and an orphanage in Rahara centre and (8) Swami Vivekananda's ancestoral home with a library and cultural centre, research centre and a non-formal education centre.
As per planning and desire of Swami Vivekananda, Sri Sarada Math and the Ramakrishna Sarada Mission exclusively for women were established in 1953 and 1960 respectively at Dakshineswar both the institutions run schools, hospitals and other service organisations. [Swami Aksharananda]