Ramganj Upazila (lakshmipur district) area 169.31 sq km, located in between 23°01' and 23°10' north latitudes and in between 90°48' and 90°58' east longitudes. It is bounded by faridganj, hajiganj and shahrasti upazilas on the north, lakshmipur sadar and raipur upazilas on the south, chatkhil upazila on the east, Faridganj and Raipur upazilas on the west.
Population Total 284304; male 137232, female 147072; Muslim 272631, Hindu 11599, Christian 33 and others 41.
Water bodies Main river: Freeder.
Administration Ramganj Thana was formed in 1891 and it was turned into an upazila on 24 March 1983.
Upazila
Municipality
Union
Mouza
Village
Population
Density (per sq km)
Literacy rate (%)
Urban
Rural
Urban
Rural

1

10

122

133

43324

240980

1679

58.4

53.3
Municipality

Area (sq km)

Ward

Mahalla

Population

Density (per sq km)

Literacy rate (%)

18.35

9

18

43324

2361

58.35
Union
Name of union and GO code
Area (acre)
Population
Literacy rate (%)
Male
Female

Ichhapur 38

3661

10917

12138

54.74

Karpara 47

3798

11237

12335

53.66

Kanchanpur 42

3444

12095

12932

50.17

Chandipur 23

4698

14284

15002

51.82

Darbeshpur 33

1547

9554

10878

56.09

Noagaon 66

3555

11089

11905

53.13

Bhatra 14

4218

12663

14126

52.33

Bhadur 13

2468

9028

10140

54.44

Bholakot 19

4197

13793

14566

54.44

Lamchar 57

4033

10537

11661

52.71
Source Bangladesh Population Census 2001, Bangladesh Bureau of Statistics.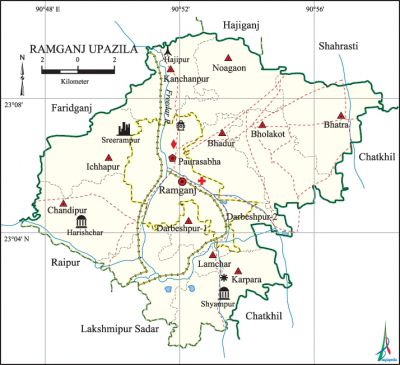 Archaeological heritage Shyampur Dayra Sharif, Kachua Dargah, Harishchar Dargah, Kanchanpur Dargah, Pancha-Ratna Math at Lakshmidhar Para, Sreerampur Rajbari.
Historical events A serious communal riot occurred in Ramganj in 10 October 1946 which continued for a number of days with heavy causalities. To ease the situation Mahatma Gandhi came from Dlhi to Ramganj in a peace mission and visited the affected villages During the war of liberation in 1971 the Pak army conducted mass killing in the upazila plundering and sacking the villages. A number of Pak soldiers were killed in a battle with freedom fighters at the Fatehpur Dighir Par. Later on the Pakistan army captured 14 freedom fighters and killed them in their Ramganj camp. The Pak army and the razakars established their camps at Ramganj godown area, Ramganj High School and Dakbangalow.
Marks of the War of Liberation Mass killing site 2 (near the Ramganj MU High School and at a place adjacent to Hajirhat Kalakopa Madrasa); mass grave 2 (on the bank of a pond on the north of Madhupur High School and also beside the Beri-road on the west of the upazila headquarters).
Religious institutions Mosque 432, temple 43, tomb 2, dargah 4, ashrama 2, harisabha 8, math 9.Noted religious institutions: Sonapur Bara Mosque, Ramganj Registry Office Mosque, Ramganj Dakbangalow Mosque, Kanchanpur Dargah Mosque, Fathepur Bara Mosque, Sonapur Kali Mandir, Chandipur Mansha Kali Mandir.'
Literacy rate and educational institutions Average literacy 54.0%; male 54.2%, female 53.9%. Educational institutions: college 4, secondary school 32, primary school 163, community school 12, kindergarten 9, madrasa 37. Noted educational institutions: Ramganj Government Degree College (1967), Dalta College (1993), Ramganj Model College (1994), Bhatra High School (1906), Daspara High School (1921), Chandipur Mansha High School (1924), Dalta' Rahamania High School (1925), Kanchanpur High School (1933), Bhadur High School, Panpara High School, Nagmud Madrasa (1856), Kethuri Senior Madrasa.
Newspapers and periodicals Weekly: Ramganj Barta (1991), monthly: Renaissance, Jagaran (2000), Agrojo.
Cultural organisations Library 17, club 22, auditorium 1, theater group 2, cinema hall 1, women's organisation 40, playground 12.
Special attraction Shah Miran Dargah Sharif, Lakshmidhar Para Dighi and Pancha-Ratna, Ramgajn Ansar Battalion and Sreerampur Rajbari.
Main sources of income Agriculture 31.62%, non-agricultural labourer 2.54%, industry 0.10%, commerce 19.14%, transport and communication 3.94%, service 15.74%, construction 2.39%, religious service 0.45%, rent and remittance 13.25% and others 10.83%.
Ownership of agricultural land Landowner 61.10%, landless 38.90%; agricultural landowner: urban 52.77% and rural 62.55%.
Main crops Paddy, wheat, jute, potato, pulse.
Extinct or nearly extinct crops Kaun, sesame, linseed, mustard.
Main fruits Mango, jackfruit, orange, coconut, betel nut, banana.
Fisheries, dairies and poultries Dairy 98, poultry 170, hatchery 2, nursery 18.
Communication facilities Pucca road 88 km, semi-pucca road 60 km, mud road 782 km; embankment 16 km.
Extinct or nearly extinct traditional transport Palanquin and bullock cart.
Noted manufactories Rice mill, flour mill, ice mill, saw mill, biscuit factory, battery factory, furniture factory, printing press, brick field.
Cottage industries Goldsmith, blacksmith, weaving, bamboo work, cane work, brass work, ghani (oil mill), shitalpait, nakshi kantha.
Hats, bazars and fairs Hats and bazars are 50, fairs 3, most noted of which are Sonapur Hat, Paniala Hat, Bhatra Hat, Balua Chowmuhoni Hat, Chowdhury Bazar, Berir Bazar, Kethuri Bazar, Mansha Mandir Mela and Shyampur Dayra Sharif Mela.
Main exports Coconut, betel nut, orange, shitalpati, house hold items made of iron.
Access to electricity All the wards and unions of the upazila are under rural electrification net-work. However 33.79% of the dwelling households have access to electricity.
Natural resources Natural gas.
Sources of drinking water Tube-well 91.98%, pond 2.83%, tap 0.67% and others 4.52%. The water of about 90% of the tube-well of this region contain arsenic at the rate of 179 mg.
Sanitation 63.70% (rural 62.47% and urban 70.77%) of dwelling households of the upazila use sanitary latrines and 25.89% (rural 27.06% and urban 19.16%) of dwelling households use non-sanitary latrines; 10.41% of households do not have latrine facilities.
Health centres Health complex 1, Upazila health and family planning centre 10, satellite clinic 50, clinic 6.
Natural disasters The devastating flood of 1998 caused heavy damages to settlements, livestock and crops of the upazila.
NGO activities Operationally important NGOs are brac, asa, RIDO, SOPIRET, Seba. [Mohammad Nur Hossain]
References Bangladesh Population Census 2001, Bangladesh Bureau of Statistics; Cultural survey report of Ramganj Upazila 2007.