Ramgarh Upazila (khagrachhari district) area 240.87 sq km, located in between 22°49' and 23°02' north latitudes and in between 91°44' and 91°59' east longitudes. It is bounded by tripura state of India and matiranga upazila on the north, manikchhari and lakshmichhari upazilas on the south, mahalchhari upazila on the east and fatikchhari upazila on the west.
Population Total 53817; male 28264, female 25553; Muslim 30834, Hindu 8875, Buddhist 178, Christian 13920 and others 10. Indigenous communities such as tripura, marma and chakma belong to this upazila.
Administration Ramgarh Thana was formed in 1905 and it was turned into an upazila in 1983.
Upazila
Municipality
Union
Mouza
Village
Population
Density (per sq km)
Literacy rate (%)
Urban
Rural
Urban
Rural

-

3

12

130

28926

24891

223

55.8

35.1
Upazila Town

Area (sq km)

Mouza

Population

Density (per sq km)

Literacy rate (%)

64.75

2

28926

447

55.81
Union
Name of union and GO code
Area (acre)
Population
Literacy rate (%)
Male
Female

Pathachhara 57

20480

5290

4813

35.77

Ramgarh 76

17280

15338

13997

55.34

Hapchhari38

21760

7636

6743

35.14
Source Bangladesh Population Census 2001, Bangladesh Bureau of Statistics.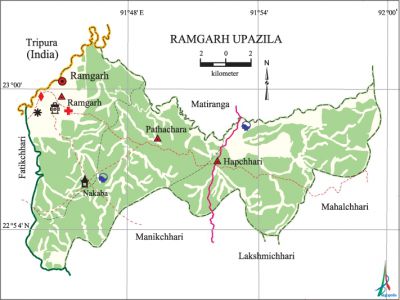 Archaeological heritage and relics Mahamuni Buddhist Monastery (Nakaba), SDO Bungalow.
History of the war of liberation The first training camp of the Mukti Fouj (freedom fighters) was established at Ramgarh in 1971. In August 1971, an encounter was held between the freedom fighters and the Pak army at Mahamuni Para in which 17 Pak soldiers were killed. On 22 December 1986 the shanti 'bahini launched a surprise attack and killed 22 innocent persons.
Marks of the War of Liberation Memorial monument 1 (Sarthak e Janma).
Religious institutions Mosque 74, temple 11, buddhist vihara and keyang 32, church 2, sacred place 1, ashrama 3. Noted religious institutions: Ramgarh Central Jami Mosque, Mahamuni Buddhist Monastery, Ramgarh Dakshineswari Kalibari.
Literacy rate and educational institutions Average literacy 46.4%; male 53.9%, female 38.1%. Educational institutions: college 2, secondary school 12, primary school 60, community school 5, kindergarten 6, satellite school 5, madrasa 7, orphanage 1. Noted educational institutions: Ramgarh Government Degree College (1980), Ramgarh Government High School (1952), Ramgarh Girls' High School (1964), Chowdhury Para Junior High School (1988), Shaheed Captain Kader Bidya Niketon (1994), Ramgarh Government Model Primary School (1937), Ramgarh Government Girls' Primary School (1964), Ramgarh Ganiatul Ulum Senior Madrasa.
Newspapers and periodicals Weekly: Binnaz.
Cultural organisations Library 2, club 5, press club 1, cinema hall 2, auditorium 2, stadium 1, playground 7.
Tourists spots Ramgarh Lake and Hanging Bridge, Soil Conservation and Research Centre, Rifles Monument, Ramgarh Horticulture Centre.
Main sources of income Agriculture 47.61%, non-agricultural labourer 11.04%, commerce 12.80%, transport and communication 2.62%, service 7.65%, construction 2.39%, religious service 0.26%, rent and remittance 1.11% and others 14.52%.
Ownership of agricultural land Landowner 37.76%, landless 62.24%; agricultural landowner: urban 29.55% and rural 45.96%.'
Main crops Paddy, sweet potato, ginger, turmeric, sugarcane, bamboo, vegetables.
Extinct or nearly extinct crops Local verities of paddy, Sesame, kaun, mustard.
Main fruits Mango, jackfruit, litchi, banana, pine apple, lemon, shaddock.
Fisheries, dairies and poultries Fishery 9, dairy 5, poultry 20, hatchery (fish) 1.
Communication facilities Pucca road 52 km, semi-pucca road 20 km, mud road 247 km.
Extinct or nearly extinct traditional transport Bullock cart, buffalo cart.
Noted manufactories Rice mill, saw mill, wine factory, plywood factory, ice factory.
Cottage industries Goldsmith, blacksmith, weaving, tailoring, wood work.
Hats, bazars and fairs Hats and bazars are 9, fairs 6, most noted of which are Ramgarh Bazar, Sonaipool Bazar, Nakaba Bazar, Chainda Mela and Mahamuni Mela.
Main exports Jackfruit, lemon, sweet potato, banana, paddy, wood, bamboo.
Access to electricity All the unions of the upazila are under rural electrification net-work. However 15.93% of the dwelling households have access to electricity.
Natural resources Natural Gas (Semutang Gas Field), wood, bamboo.
Sources of drinking water Tube-well 89.74%, tap 1.15%, pond 1.71% and others 45%.
Sanitation 21.02% (rural 6.58% and urban 35.46%) of dwelling households of the upazila use sanitary latrines and 61.23% (rural 67.94% and urban 54.51%) of dwelling households use non-sanitary latrines; 17.75% of households do not have latrine facilities.
Health centres Hospital 2, health and family welfare centre 3, Islamic mission health centre 1, clinic 1, diagnostic centre 3, veterinary 1.
Natural disasters About 20 persons were victims of the flash flood on 26 June 2003. Besides, it also caused heavy damages to settlements, roads and plants of the upazila.
NGO activities Operationally important NGOs are brac, IDF, proshika, asa. [Md. Nizam Uddin Lavlu]
References Bangladesh Population Census 2001, Bangladesh Bureau of Statistics; Cultural survey report of Ramgarh Upazila 2007.