Rangabali Upazila (patuakhali district) area 720.76 sq km, located in between 21°46' and 22°05' north latitudes and in between 91°15' and 90°37' east longitudes. It is bounded by amtali and galachipa upazilas on the north, bay of bengal on the south, Galachipa and char fasson upazilas on the east, Amtali upazila on the west.
Population Total 86819; male 45235, female 41584; Muslim 66517, Hindu 19058, Christian 375, Buddhist 780 and others 89. Indigenous community such as rakhain belongs to this upazila.
Water bodies Main rivers: Agunmukha and Kajal; Rabanabad and Char Kalmi channels are notable.
Administration Rangabali Upazila was formed on 14 march 2011 comprising part of Galachipa Upazila.
Upazila
Municipality
Union
Mouza
Village
Population
Density (per sq km)
Literacy rate (%)
Urban
Rural
Urban
Rural

-

5

49

93

-

86819

257

-

38.23
Union
Name of union and GO code
Area (acre)
Population
Literacy rate (%)
Male
Female

Char Montaz 34

46898

8049

6897

31.88

Chalitabunia 32

6758

3317

3027

34.78

Chhota Baisdia 44

13492

8945

8497

36.08

Bara Baisdia 27

23838

12163

10959

50.28

Rangabali 83

26843

12761

12204

38.14
Source Bangladesh Population Census 2001, Bangladesh Bureau of Statistics.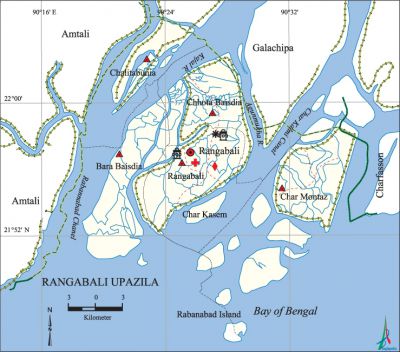 Historical events A group of the Rakhains escaped the atrocities of the Burmese king to the Rangabali Island of Galachipa upazila and settled there in 1784. These Rakhains are reported to have been the first settlers in the island.
Religious institutions Mosque 312, temple 20, pagoda 5.
Literacy rate and educational institutions Average literacy 38.23; male 53.3%, female 42.01%. Educational institutions: high school 5, primary school 15, madrasa 7. Noted educational institutions: Rangabali High School, Rangabali Saleha Junior High School.
Cultural organisations Club 2, jatra party 2,' playground 32, women's organisation 1.
Tourist spots Sunrise and sunset can be viewed from Rabanabad Island.
Main sources of income Agriculture 48.18%, non-agricultural labourer 3.52%, commerce 17.15%, transport and communication 7.41%, service 9.33%, construction 1.91%, religious service 0.14%, rent and remittance 0.57% and others 11.79%.
Ownership of agricultural land Landowner 53.25%, landless 46.75%.
Main crops Paddy, wheat, potato, onion, pulse, vegetables.
Extinct or nearly extinct crops Sesame, linseed, kaun.
Main fruits Mango, jackfruit, papaya.
Fisheries, dairies and poultries This upazila has a number of fisheries, dairies and poultries.
Extinct or nearly extinct traditional transport Palanquin, bullock cart, horse carriage.
Noted manufactories Rice mill, cold storage, welding factory.
Cottage industries Weaving, blacksmith, potteries, wood work, embroidery.
Hats, bazars and fairs Hats and bazars are 22, fairs 2, most noted of which are Chalitabunia Bazar, Koralia Bazar, Felabunia Bazar, Gohin Khali Bazar, Montaj Sluij Bazar, Baher Char Bazar, Katakhali Bazar, Takta Bunia Bazar, Neta Bazar, Tulatali L. Ghat Bazar, Pulghat Hat, Mollar Hat, Mowdubi Hat, Bestin Bazar and Char Naluar Hat.
Main exports Paddy, fish.
Access to electricity All the unions of the upazila are under rural electrification net-work. However 32.26% of the dwelling households have access to electricity.
Sources of drinking water Tube-well 92.27%, tap 2.30%, pond 0.10% and others 5.33%.
Sanitation 30.68% of dwelling households of the upazila use sanitary latrines and 33.95% of dwelling households use non-sanitary latrines; 35.37% of households do not have latrine facilities.
Health centres Family welfare centre 1, community clinic 2, clinic 3.
NGO activities Operationally important NGOs are asa, brac, proshika, caritas [Rajib Mondal]
References Bangladesh Population Census 2001, Bangladesh Bureau of Statistics; Field report of Rangabali Upazila 2012.