Rangpur Sadar Upazila (rangpur district) area 330.33 sq km, located in between 25°39' and 25°50' north latitudes and in between 89°05' and 89'20' east longitudes. It is bounded by gangachara upazila on the north, mithapukur upazila on the south, kaunia and pirgachha upazilas on the east, taraganj and badarganj upazilas on the west.
Population Total 600240; male 313102, female 287120; Muslim 541607, Hindu 57867, Buddhist 264, Christian 83 and others 419. Indigenous communities such as santal and oraon belong to this upazila.
Water bodies Main rivers:' Bullai, ghaghat; Ganakanai and Mariga Beels are notable.
Administration Rangpur Sadar Thana was formed in 1877 and it was turned into an upazila in 1984.
Upazila
Municipality
Union
Mouza
Village
Population
Density (per sq km)
Literacy rate (%)
Urban
Rural
Urban
Rural

1

11

151

229

265972

334268

1817

64.72

43.12
Municipality

Area (sq km)

Ward

Mahalla

Population

Density (per sq km)

Literacy rate (%)

50.69

15

109

241310

4721

64.47
Upazila Town

Area
(sq km)

Mouza

Population

Density (per sq km)

Literacy rate (%)

171.17

-

24662

1558

67.12
Union
Name of union and GO code
Area (acre)
Population
Literacy rate (%)
Male
Female

Uttam 94

5318

17028

15705

45.66

Chandanpat 17

7041

15431

14431

35.58

Tapodhan 87

6815

23518

21899

42.11

Tamphat 79

6445

17592

16425

47.21

Darshana 19

6320

8642

8117

42.23

Pashuram 39

4938

17934

16238

53.65

Mominpur 31

6723

14037

13257

33.91

Rajendrapur 47

6387

14801

13639

47.61

Sadya Pushkarni 63

9307

18716

17796

40.67

Satgara 71

5153

14579

13676

46.76

Haridebpur 23

7209

18369

17014

40.13
Source Bangladesh Population Census 2001, Bangladesh Bureau of Statistics.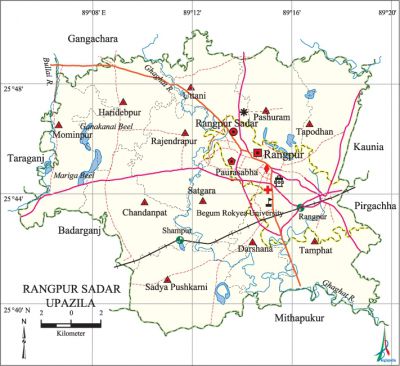 Archaeological heritage and relics Ancient Mosque at Mahiganj, Keramatia Mosque, Tomb of the' Maulana Keramat Ali Jainpuri, Tomb of Shah Jalal Bokheri at Mahiganj, Tajhat Rajbari at Rangpur Museum, Home stead of roquiah sakhawat hossain at Pairabandh, Zila Parishad Building, Sree Sree Karunamayee Kali Mandir, Dimlaraj Kali Mandir, Bishawar Shiva Mandir, Gosaibari Nandi Mandir, Pareshnath Mandir at Mahiganj, Tepa Zamindar Bari, Khasbagh archaeological relics, Dewanbari main gate, Manthana Zamindar Bari,' Rangpur Town Hall.
Historical events Rangpur Carmichael College was a centre of agitation during the language movement in 1952. Since the Principal of the Carmichael College was a non-Bengali, the situation got quickly deteriorated. In March 1971, the Pak army killed Shanku Samaddar, Abul Kalam Azad, Mokbul Hossain and Omar Ali of Rangpur Sadar upazila. During the war of liberation the Pak army killed many teachers and students of Carmichael college including Professor Kalachand Roy (Chemistry), Professor Chitta Ranjan Roy (Mathematics), Professor Boam Krishna Adhikari (Philosophy), Professor Sunil Chandra Chakravorty (Bangla), Professor Md. Abdur Rahman, Professor Shah Solaiman Ali in the College compound.
Marks of the War of Liberation Mass grave 1 (Nandiganj); Mass killing site 4 (Dahiganj Crematory, Balar Ghat, on the bridge over the river Ghagat, Lahirir Hat); Memorial sculpture 1 (Arjan).
Religious institutions Mosque 380, temple 35, church 2, tomb 5, sacred place 1. Noted religious institutions: Ancient Mosque at Mahiganj, Keramatia Mosque, Bishawar Shiva Mandir, Gosaibari Nandi Mandir, Pareshnath Mandir at Mahiganj, Sree Sree Karunamayee Kali Mandir, Dimlaraj Kali Mandir.
Literacy rate and educational institutions Average literacy 52.95%; male 57.54%, female 47.93%. Educational institutions: university 1, teachers training college 1, primary teachers training institute 1, technical college 1, college 17, medical college 2, cadet college 1, secondary school 63, primary school 230, satellite school 18, kindergarten 18, community school 15, NGO operated school 120, madrasa 72. Noted educational institutions: Begum Rokeya University (2008), Carmichael University College (1916), Rangpur Medical College (1966), Begum Rokeya Government Mohila College (1964), Rangpur Government College (1964), Rangpur Cadet College (1977), Rangpur Teachers Training College (1858), Rangpur Polytechnical Institute (1962), Rangpur Vocational Institute (1865), Rangpur Technical School and College (1865), Rangpur' Government Girls' High School (1876), Tajhat High School (1894), Kailash Ranjan High School (1904), Afan Ullah High School (1908), Rangpur Zila School (1832).
Newspapers and periodicals Daily: Dabanal (1980), Juger Alo (1992), Paribesh (1994), Rangpur (1997); weekly: Atal (1991), Rangpur Barta (1996); defunct: Rangapur Bartabaha (1847), Rangapur Darpan (1907), Uttar Bangla (1960), Pravati (1955).
Cultural organisations Library 5, club 181, museum 1, theatre group 6, theatre stage 1, cinema hall 7.
Tourist spots Shirin Park at Gangachara Road, Tajhat Rajbari, Rangpur Zoo, Rangpur Museum, Carmichael College.
Main sources of income Agriculture 36.74%, non-agricultural labourer 4.77%, industry 1.94%, commerce 21.26%, transport and communication 7.30%, service 15.35%, construction 2.80%, religious service 0.26%, rent and remittance 0.46% and others 9.12%.
Ownership of agricultural land Landowner 41.39%, landless 58.61%; agricultural landowner: urban 52.17% and rural 47.83%.'
Main crops Paddy, jute, wheat, onion, garlic, ginger, potato, chilli, sugarcane, tobacco, vegetables.
Extinct or nearly extinct crops Sesame, linseed, kaun, aus paddy.
Main fruits Mango, jackfruit, blackberry, banana, papaya.
Fisheries, dairies and poultries Fishery 20, poultry 40, hatchery 9.
Communication facilities Pucca road 600 km, semi-pucca road 25 km, mud road 550 km; railway 30 km.
Extinct or nearly extinct traditional transport Palanquin, bullock cart.
Noted manufactories Rice mill, oil mill, flour mill, ice factory, printing press, saw mill, welding factory, bidi factory.
Cottage industries Blacksmith, potteries, bamboo work.
Hats, bazars and fairs Hats and bazars are 18, fairs 4, most noted of which are Lalbagh Bazar, Bus Terminal Bazar, Burir Hat, Nandiganj Hat, Pagla Pir Hat, Rath Mela at Mahiganj, Bara Dargah Mela and Tajhat Mela.
Main exports Paddy, sugarcane, tobacco, wheat, ginger, vegetables.
Access to electricity All the wards and unions of the upazila are under rural electrification net-work. However 38.59% (urban 60.85% and rural 23%) of the dwelling households have access to electricity.
Sources of drinking water Tube-well 89.72%, tap 3.41%, pond 0.28% and others 6.59%.
Sanitation 35.89% (rural 14.43% and urban 66.52%) of dwelling households of the upazila use sanitary latrines and 40.44% (rural 59.71% and urban 12.93%) of dwelling households use non-sanitary latrines; 23.67% of households do not have latrine facilities.
Health centres Hospital 8, maternity and child welfare centre 1, union health and family welfare centre 10, municipal medical centre 1, charitable hospital 2, clinic 20.
NGO activities Operationally important NGOs are brac, asa, CARE, rangpur dinajpur rural service. [Abdus Sattar]
References Bangladesh Population Census 2001, Bangladesh Bureau of Statistics; Cultural survey report of Rangpur Sadar Upazila 2007.