Raozan Upazila (chittagong district) area 246.58 sq km, located in between 22°25' and 22°40' north latitudes and in between 91°51' and 91°59' east longitudes. It is bounded by fatikchhari upazila on the north, boalkhali upazila and river karnafuli on the south, rangunia and kawkhali (rangamati) upazilas on the east, hathazari and Fatikchhari upazilas on the west.
Population Total 325389; male 163963, female 161426; Muslim 241250, Hindu 59498, Buddhist 226, Christian 24188 and others 227. Indigenous communities such as marma, tripura and Magh belong to this upazila.
Water bodies Main rivers: Karnafuli, halda.
Administration Raozan Thana was formed in 1947 and it was turned into an upazila in 1984.
Upazila
Municipality
Union
Mouza
Village
Population
Density (per sq km)
Literacy rate (%)
Urban
Rural
Urban
Rural

1

14

64

66

55874

269515

1320

68.1

63.3
Municipality

Area (sq km)

Ward

Mahalla

Population

Density
(per sq km)

Literacy rate (%)

27.15

09

17

55874

2058

68.1
Union
Name of union and GO code
Area (acre)
Population
Literacy rate (%)
Male
Female

Urkirchar 88

1395

11305

10980

67.59

Kadalpur 50

3760

8840

9775

57.83

Gahira 37

3496

4844

5123

62.35

Chikdair 18

2078

7368

7381

59.06

Dabua 25

5584

10012

9644

55.43

Noajispur 56

1620

6395

6336

70.75

Noa Para 63

3549

17547

17083

61.82

Paschim Guzara 94

2496

9407

9730

68.18

Pahartali 69

3815

12040

10303

69.92

Purba Guzara 31

6714

10726

11256

70.29

Bagoan 11

2723

11086

10802

62.04

Binajuri 12

2519

4746

5003

68.29

Raozan 75

6156

10577

10739

62.78

Haladia 44

11648

10024

10443

52.06
Source Bangladesh Population Census 2001, Bangladesh Bureau of Statistics.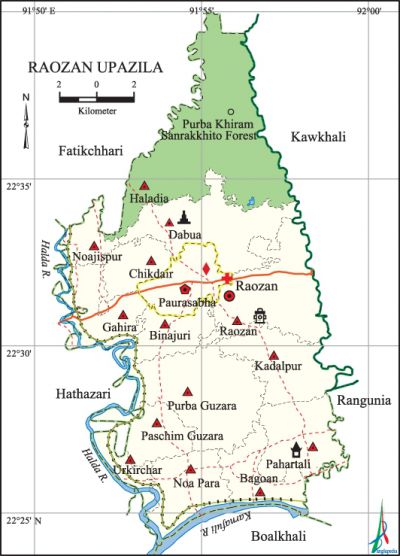 Archaeological heritage and relics Jagannath Debaloy and the Gateway at Dabua, Koileswra Shiva Mandir and Shiva Statue at Dabua (19th century), Mohamuni Buddhist Temple at Pahartali, Chulamoni Buddhist Vihara at Lathichhari, Aburkhil Buddhist Vihara, Aryan Moitra Buddhist Vihara (sleeping statue), Isa Khan Dighi at Noajispur, Laskar Uzir Dighi at Kadalpur, Nabin Chandra Sen's residenceand Memorial Monument at Guzara and Noa Para, Jagatpur Asrama.
History of the War of Liberation On 13 April 1971 the Pak army killed 48 innocent people at village Unsattarpara; they also conducted heavy plundering and set many houses of this village on fire. On the same day, Saifuddin Khalid Chowdhury, Professor Dilip Kumar Chowdhury, Sheikh Muzzafar Ahmed, Abdur Rab and Younus were killed in a direct encounter with the Pak army at a place in front of the Chittagong Engineering College (presently CUET). In honour of the martyrs a memorial plaque has been installed at this spot. On 23 April the Pak army and the razakars brutally killed Principal Natun Chandra Singh in the premises of his Kundeswari Aushadhalaya. Besides, the Pak army indiscriminately shot 35 persons dead at Jagatmalla Para, Ward no. 4 of Raozan Paurasabha.
Marks of the War of Liberation Mass killing site 3 (Unsattarpara, Jagatmallapara, Gahira-Shilapara); memorial monument 1 (Name plates of martyr freedom fighters at the municipality premises).
Religious institutions Mosque 333, temple 118, tomb 5, sacred place 1. Noted religious institutions: Hazrat Yasin Shah Mazar, Hazrat Sikander Shah Mazar, Akbar Shah Mazar, Hazrat Abdul Aziz Naksh Bandi Mazar, Kaileshsar Shiva Mandir, Dabua Jagannath Mandir, Lathichhari Buddha Mandir, Mohamuni Buddha Mandir, Dabua Gita Ghan Mandir, Sultanpur Kali Mandir.
Literacy rate and educational institutions Average literacy 64.1%; male 67%, female 61.3%. Educational institutions: university 1, college 9, secondary school 59, primary school 168, community school 6, kindergarten 11, madrasa 21 maktab 355. Noted educational institutions: Chittagong University of Science and Technology (CUET, former Chittagong Engineering College established in 1968, renamed as Bangladesh Institute of Technology BIT in 1986), Ramgati Ramdhan Abdul Bari Chowdhury High School (1898), Raozan RRAC Model Pilot High School (1898), Koyepara Jagat Chandra Sen Agriculture and Industrial High School, Mohamuni Anglo Palli High School (1902), Noa Para High School (1904), Uttar Guzara Biswas Government Primary School (1811), Keotia Government Primary School (1820), Kadalpur Government Primary School (1850), Raozan Aryan Moittro Government Primary School (1851), Uttar Nabatara Government Primary School (1868),' Raozan Aryan Moittro Institution (1931), Kagtia Ashatul Ulam Fazil Madrasa (1932).
Newspapers and periodicals Monthly: Suprobhat Raozan; annul: Compus, Santaparna, Sambhaba; defunct monthly: Angikar, Shuktara; fortnightly: Raozan, Raozan Barta, Lumbini, Naba Samatat, Kallan, Bodhon, Agrasar Barta, Bodhi; quaterly: Abirbhab.
Cultural organisations Library 2, club 104, women organisation 29, playground 51.
Tourist spots Masterda Surja Sen's Bastuvita and Memorial Monument, Mohamuni Buddhist Temple, Jagatpur Ashrama, Nabin Chandra Sen's Bastuvita and Memorial Monument.
Main sources of income Agriculture 21.02%, non-agricultural labourer 3.23%, industry 0.40%, commerce 15.71%, transport and communication 3.39%, service 18.82%, construction 1.15%, religious service 0.49%, rent and remittance 12.83% and others 22.96%.
Ownership of agricultural land Landowner 46.86%, landless 53.14%; agricultural landowner: urban 44.06% and rural 47.40%.'
Main crops Paddy, wheat, potato, sugarcane, chilli, ground-nut, vegetables, mustard, sesame, pulse.
Extinct or nearly extinct crops Kaun, linseed, khesari.
Main fruits Mango, blackberry, jackfruit, papaya, litchi, banana, coconut, melon, guava, hog-plum, palm.
Fisheries, dairies and poultries Fishery 2652,' dairy 35, poultry 98, hatchery 4, fisheries breeding centre 1.
Communication facilities Pucca road 42 km, semi-pucca road 65 km, mud road 391 km; waterway 5.40 nautical miles.
Extinct or nearly extinct traditional transport Palanquin, horse carriage, bullock cart.
Noted manufactories Power station centre, rubber production centre, pharmaceutical industry.
Cottage industries Goldsmith, blacksmith, potteries, weaving, wood work, bamboo work.
Hats, bazars and fairs Hats and bazars are 26, fairs 8, most noted of which are Fakir Hat, Amir Hat, Jagannath Hat, Kagtia Hat, Gauri Shankar Hat, Natun Chowdhury Hat, Lambur Hat, Ramgati Hat, PK Sen Hat, Kala Chand Hat, Chaitra Samkranti Mela, Maghi Purnima Mela, Mahamuni Mela at Pahartali, Baruni Snan Mela at Raozan, Rath Mela, Gobinda Thakur Mela at Idilpur and Maha Porinirban Mela at Raozan.
Main exports Rubber, medicine.
Access to electricity All the wards and unions of the upazila are under rural electrification net-work. However 72.85% of the dwelling households have access to electricity.
Sources of drinking water Tube-well 90.3%, tap 0.95%, pond 3.19% and others 5.57%.
Sanitation 49.40% (rural 46.92% and urban 62.21%) of dwelling households of the upazila use sanitary latrines and 40.57% (rural 42.68% and urban 29.67%) of dwelling households use non-sanitary latrines; 10.03% of households do not have latrine facilities.
Health centres Upazila health complex 1, family planning centre 8, satellite clinic 3.
NGO activities Operationally important NGOs are brac, proshika, asa. [Partho Protim Dhar]
References Bangladesh Population Census 2001, Bangladesh Bureau of Statistics; Cultural survey report of Raozan Upazila 2007.