Rashid, MA (1919-1981) a pioneer of engineering education in Bangladesh and the first vice chancellor of the bangladesh university of engineering and technology (BUET). Born on 16 January 1919 at village Bogadubi of Habiganj district, he graduated in Civil Engineering with distinction from Bengal Engineering College at Shibpur in West Bengal in 1942. For his extraordinary merit as a student, he obtained the Slater Memorial gold medal and the Tate Memorial medal in 1941, and the Trevor Memorial prize and gold medal in 1942.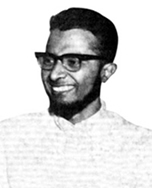 Professor Rashid served as an assistant engineer in the Public Works Department of the Assam government from 1942 to 1945. He went to USA in 1945 with a scholarship from the Indian government and after obtaining MS and DSc in civil engineering from the Carnegie Institute of Technology at Pennsylvania returned home in 1948. He was the first in this country to have a doctorate degree in engineering. The same year he joined the Ahsanullah Engineering College in Dhaka as an assistant professor in the Department of Civil Engineering.
He was the head of the department from 1949 to 1958 and in 1952 became a professor. In 1954 he became the first Bangali principal of the Ahsanullah Engineering College and for the next 16 years provided leadership for putting engineering education in Bangladesh on a solid footing. The college signed a cooperation agreement in 1954 with A&M College of Texas under which some experienced teachers from USA joined the college faculty and some of its own teachers went to the States for higher education.
In 1958 he was made a member of the Education Commission of Pakistan and it was on the basis of one of its recommendations that the East Pakistan University of Engineering (later BUET) was established. He worked tirelessly towards making the new university a centre of international standard for engineering and technological studies. He was made chairman of the East Pakistan Public Service Commission in March 1970. After the liberation of Bangladesh he was made a member of the National Pay Commission in 1972 and a member of the Industrial Workers Wages Commission in 1973. In 1975 he was appointed a member, with the rank and status of a cabinet minister, in the president's council of advisors and was put in charge of the Ministry of Works.
In the performance of his duties in all assignments he always proved his efficiency, honesty and high moral courage. In 1966 the Government of Pakistan awarded him the title of 'Sitara-i-Pakistan'. At the Sydney summit of the Commonwealth countries in 1981 he was chosen to become chairman of the Commonwealth Foundation but before he could take up this high position he died on 6 November 1981 as a result of a car accident while on his way from Pabna to Bogra. Among many other distinctions, he was elected a fellow of the American Society of Civil Engineers. [Enamul Haq]